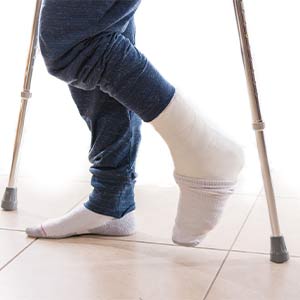 Our article will discuss five of the best cast socks you should consider, including my favorite pair by Pembrook.
Finding the best cast sock that suits your purposes can be incredibly difficult. That's why we have taken time so that you don't have to and found the best-reviewed cast socks. Each of the socks we have listed below is trusted by those who have had to wear a cast sock in the past.
Best 5 Cast Socks Reviewed
One of the worst things to experience is wearing a cast if you have a medical condition. Fortunately, one of the best pairs of cast socks for those suffering from with diabetes, lymphedema, or those who suffer from swollen feet. 
The Bulinlulu extra wide cast socks are sure to fit your cast thanks to their 30-inch wide stretch capabilities. These socks also feature a thicker footbed design that allows them to keep the soles of your feet warm even through your cast. This is especially nice for cold days since the socks are tickened. You should note that since they are uber warm, you might kick them off while sleeping.
They are unisex, feature premium quality elasticity, and have an inverted toe seam. This special toe seam ensures your foot doesn't become irritated. However, some have complained about this sock. For example, some users have found that the foot of the sock easily slides down, creating an uncomfortable feeling. 
Note: Please don't put them in the dryer.
If you have feet that like to sweat like me, you might want to consider the Beyond Extra Wide cast socks. These cast socks are widely recognized as one of the best for moisture-wicking and controlling foot odors. This is thanks to the socks' specially treated fibers. They are also machine washable, which comes in handy when you struggle to do daily tasks. 
The Beyond Extra Wide cast socks can be used by those who suffer from conditions that cause extreme foot, ankle, and leg swelling. Their superior stretch design means they will fit your cast and be comfortable. After all, these socks can stretch 30 inches at the calf and 21 inches at the foot. 
Additionally, the Beyond Extra Wide cast socks won't fall down cast, they are unisex, and are one size fits all. As with other cast socks, some customers have had complaints, for example, a few have had issues with the sock fabric snagging easily.
Many injured people who wear casts don't want to put an entire cast sock on. If you're one of these people, you might like the Pembrook cast sock. This sock doesn't go all the way up the leg and instead caps the front part of the toes and foot. It has a secure slingback design and is unisex. 
Pembrook cast sock is that it keeps the front part of the foot warm and cozy. That's why it is particularly useful for winter wear. When you wear it, you also won't need to worry about the elements, and you can wear them for hours. This is because it's made to be soft and comfortable thanks to its ultra-soft polar fleece fabric lining. 
With the Pembrook cast sock, you also won't need to worry about your safety. This cast sock has a rubberized tread on the bottom to provide a secure grip on smooth and slippery surfaces. Yet, according to some wearers, one of the biggest downsides to this cast sock is that the strap at the back is too long and tends to sometimes drag on the ground. In addition, because the sock material is fleece they are a magnet for lint and animal hair.
The Mars Wellness premium cast sock is one of the best for anyone seeking comfort and protection. 
This sock fits over the front of the foot of your cast and doesn't go up the leg. It is designed to be comfortable with breathable fabric that is also durable. When you wear this socks, you will be protected against the elements, and your foot will stay warm. 
The Mars Wellness premium cast sock is also secure. Its elastic back will stay in place as you walk, and it will fit like a glove on your foot thanks to its universal fit design. 
Even though this sock is one of the best, unfortunately, some people found fault with it. According to some users, the material wasn't as high quality as it could have been, and they experienced rips because of being poorly sewn at the toes. 
The Imprese cast sock has been made to be durable and withstand not only the elements but also your daily movement while out and about. 
This cast sock can fit nearly any foot and is strong but durable with its sturdy fleece lining that provides a comfortable fit. Its strong outer fabric is also guaranteed to keep up with your movement needs. 
Additionally, one of this cast sock's best features is its tacky rubber tread that helps prevent falls. This tread minimizes your chances of getting hurt by providing a steady grip on many different surfaces. 
However, despite its impressive durability, some users have found it hard to secure the cover. Others have also said that the material isn't as good as it could be and doesn't fit properly over every cast.
Any of the five cast sock options will be a good choice for you if you want to protect your cast and foot. Each of these cast socks has defining features that make them worth considering. In my opinion, the Pembrook is the best, especially for winter wear, as I said earlier.
Yet, you might want to try one of the other cast socks if you're seeking comfort, durability, odor management, or a sock to wear with your medical condition. No matter which one you try, you're bound to have a sock that will keep your foot warm, safe, and secure.
You might interested in our wearing walking boot tips.