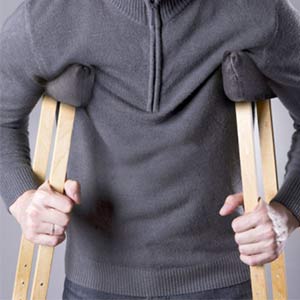 5 Best Crutch Pads You Should Know
People who use arm crutches on a daily basis, know exactly how frustrating that could get.
Crutch pads are such a brilliant innovation to ease up the experience to make it much more enjoyable. Today we go through 5 amazing crutch pads to help you get the best out there.
The first product on the list is this one from the Vive crutch pillow.
Destined to improve the use of the underarm crutches and boost support and comfort. The fabricating company combined a high-density foam padding covered with a soft layer of faux sheepskin on the exterior. It is very relaxing and extra comfy.
The pads are made of a non-allergic material, allowing air to freely circulate through which  keeps you cool and dry while remaining soft and comfortable.
The design protects your skin from the usual irritations due to long periods of crutch use.
Plus, it relieves the painful pressure under the armpit and the hand grip.
It is very easy to put on the sheepskin pads, just stretch and put over the existing rubber handles. They come with a strong fastener strap attached for to lock-in firmly in place once you're done installing them.
Also, the hand grips included are beyond gentle, they take any discomfort away and reduce any chance of wrist pain.
For more security, they  feature a non-slip lining to wrap tightly in place
Comes next, these amazing crutch pads covers to protect your arms, manufactured by crutch comfort.
The sculpted memory foam design ensures maximum comfort and satisfaction. The inside of each pad is made of soft memory foam, it provides pressure-point relief for extra touch of comfort.
The covers on the outside are made of ultra soft fleece which feels great, helps absorb moisture and keeps the area dry and comfy for long periods of use.
Also, the core and the fleece covers can be taken apart for hand wash.
The pads can easily be put on or taken off, they are designed to fit on all crutches, and they will firmly lock in place by using the hook & loop fasteners.
The company also offers a set of hand grips and a matching fleece pouch, get them all for a major discount.
This product is another great crutch pads from Vive. They are designed to eliminate any discomfort accumulated from pressure against your armpits or the hands.
The hand grips are also covered with leather to assure a relaxing feeling.
Featuring a slip-resistant material which keeps friction to a minimum, no irritation, no pain! 
The Vive crutch pads and hand grips are made of a high-density foam that retains its shape and delivers great support and comfort over the use.
The breathable cushioning allows for more air flow to avoid any built up heat and keep you cool and dry. Also, it's super absorbent in case of any unwanted moisture. 
These pads are made to fit on every standard sized crutches; adult men, women, and youths.
Stretch the covers over the rubber pads and use the hook and loop strap attached to secure it in place.
The hand grip pads wrap around the existing grip and also have a hook and loop strap for tight non-slip lock-on.
Elegant and soft are what these pads are all about. These cute looking pads are designed to give extra care and tenderness for a convenient comfortable use.
The product also includes hand grip pads which have an adhesive strip design that is so beautifully crafted for a luxurious outlook.
The pads are made of a sandwich mesh fabric material that feels very soft and comfortable while in motion.
The three-dimensional Mesh allows air to swiftly flow through the fabric, very absorbent, and remains cool during all times of use.
The covers are made to evenly distribute heat and pressure which reduces pain under the arms and against the palms.
The fabric is also made to protect the cushion and the grip area from dirt and abrasion due to extensive use.
To install the pads, stretch the underarm pads and insert from the left to the right.
Next, wrap the hand grip pads around the existing rubber handles. Both pads feature hook-and-loop fasteners for more security throughout the day.
For the young kids who are struggling from the pain of using their crutches, these Crutch Critters could be just the solution. 
These stuffed animals looking crutches pads come in so many shapes. They are soft against the arms and guarantee more comfort. The plush fabric used in the making is very soft, delicate and very comfortable for the little ones out there.
For an easy convenient install, the crutch critters have a 7″ wide pocket in the bottom, only slide the rubber crutch pad inside. Also, they could fit on an adult crutch just as easily.
When using arms crutches for mobility aid becomes a necessity, finding the most suitable crutch pads also becomes a necessity.
That's why before ordering a set for your comfort purposes, you should take a few things in consideration first. 
Extensive use of crutches may get a bit painful, and things may get wet and uncomfortable down there. The pads you choose must be of good soft quality material, super absorbent and breathable to accommodate your needs.
Our research showed that the Vive Sheepskin Crutch and hand grip pads maybe a great selection. 
Made of a high-density foam padding covered in soft faux sheepskin. They deliver extra tenderness down the arms and are gentle against the hands. They are designed to be non-slip and safe for a long time of use. 
Plus, these pads are easy on the pocket and have a 60-day guarantee from Vive.