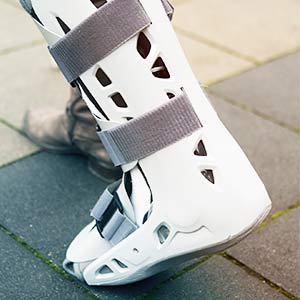 Thousands of people have wear a walking boot yearly to recover from an injury. Wearing the wrong walking boot can make your rehabilitative journey uncomfortable and unpleasant. Fortunately, you don't have to worry about reinjuring yourself or being uncomfortable. This is because there are a few excellent walking boot options. 
We've taken the time to find five of the best walking boots you need to consider if you have an injury that requires one.We go into detail surrounding each boot's features that make them worthwhile. 
Best 5 Walking Boots Reviewed
When using a walking boot, it can be challenging to walk how you usually would. If this is one of your biggest concerns, you need the United Ortho Short Air Cam walking boot. This easy-to-use inflating and deflating walking boot is one of the best. This is especially true for those who want to maintain a natural walking gait. 
This durable walking boot has a design that promotes a natural walking gait. It has a rocker sole and a shock-absorbing insole. These are the key features that help you walk normally just like you don't have an injury.
This walking boot is also durable. This is thanks to its sturdy plastic molded uprights that feature steel reinforcement. Yet, you'll likely appreciate most that you can use it for various injury types. For example, this walking boot is perfect for soft tissue injuries. It is also best for post-operative care, foot and ankle fractures, and acute ankle sprains. 
Unfortunately, despite its many positive attributes, it does have a few problem areas. According to some users, this walking boot is very heavy when walking. Other users have complained that they have received a used product. 
Those worried about stability while their injury heals need the Kefit walking boot. This walking boot has been designed to stabilize a person's foot with its built-in inflatable bag. 
The built-in bag on the Kefit walking boot inflates and provides supreme stability. This keeps an ankle in its place with little movement, even when walking. This promotes better healing while providing ample protection. Additionally, this boot has double-sided aluminum brackets that match a typical legs contour. This design feature provides further stability to an injured foot or ankle. 
Moreover, the Kefit walking boot built-in compression bag provides comfort while walking. This bag adapts to changes in a foot's swelling. Thus making it comfortable without feeling tight when worn.
You should also note that this boot suits those recovering from a host of injuries. For example, sprained ankles, foot or ankle stress fractures, or Achilles tendon ruptures. You should also keep in mind that this boot hasn't been every user's favorite. Like other walking boots, the Kefit boot has a few complaints. Some users have found the bottom to lack proper grip and others have found the inflation feature too flimsy. 
Healing after surgery can be challenging and uncomfortable. That's why purchasing a quality walking boot is a good idea. One of the best option for post-surgery ailments is the BraceAbility short walking boot. This clinically proven walking boot is made to protect and treat many injuries. Injuries include stress fractures, post-bunion surgery, metatarsal fractures, or broken toes. 
The BraceAbility short walking boot also helps to immobilize your foot, and ensures your injury doesn't worsen and you heal as you should. This walking boot also has adjustable medical-grade fastener straps. These straps make putting it on and customizing the right fit easy. 
This walking boot also has a rocker bottom and a low profile. These help you walk normally while you focus on recovery. But you'll like most that you can trust your foot will be safe. This is because this boot has a rigid polymer plastic shell. This shell supports your foot and ankle on both sides. 
Yet, some users have found fault with this walking boot. One customer found the foam to squeak loudly when walking. Others found it uncomfortable to wear.
Having an injury doesn't mean you should be unable to move about as you wish. If you use the Aircast AirSelect walking boot, you can do your daily activities with less fuss and hassle. The Aircast AirSelect walking boot helps you stay mobile. This is because it's comfortable while offering protection and swelling control. 
This walking boot has a sleek open-frame design that provides ventilation. This means you don't have to worry about your foot sweating and have less worry about mold and mildew growth. It also has a skid-resistant, non-marking rubber treat. Unlike other walking boots, this tread provides better traction and ensures long wear. 
Yet, what you'll likely love it most is that it has overlapping Duplex air cells. These cells line the shell of the semi-rigid durable shell. This air cell lining provides intermittent pneumatic compression. With this compression, you're ensured three times faster edema reduction. 
The Aircast AirSelect also has SoftStrike technology. This technology absorbs and dissipates shock as you walk so it ensures you that you don't feel discomfort while moving out and about daily. But, you should know that this walking boot has a few concerns, for example, some users have found the velcro strap to be troublesome. Others have had issues with the comfort of the boot, with the lining moving and the boot causing pain. 
Do you weigh more than the average person? If so, you'll likely struggle to find a walking boot that can support your weight. Luckily, the United ortho Air Cam walking boot is one of the best for heavy-weight users. This walking boot can be used by people who weigh up to 300 pounds. 
Besides being perfect for heavier users, this walking boot has many other attributes. For example, this boot provides stability and support for various injuries. It includes either pre-surgery or post-surgery  and also has steel reinforcements and a shock-absorbing insole to ensure you do not jar your foot. Additionally, it has a rocker sole for a more natural gait.
It's also easy to use and adjust and is perfect for winter wear since it's designed to be comfortable. Yet, some have found this walking boot to be disappointing. Some users have had the side straps tear off, and others have been unable to pump the boot with air for support. 
Each of these walking boot options is worth considering. You'll know which one you want when you check their features and what they provide.
In my opinion, the Kefit walking boot is the best because it provides superior stability. Yet, whichever walking boot you choose, you'll enjoy protecting your injury and also enjoy promoting its healing.
If you feel uncomfortable wearing some walking boot, you can wear walking boot socks to help make you more comfortable.  Please read our best walking boot socks guide before you buy them.