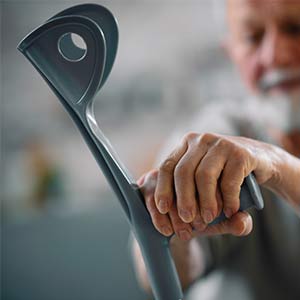 5 Best Folding Crutches for Traveling: Short or Long Vacation
The best folding crutches make traveling in comfort a reality. You simply fold the crutches and store them up in your luggage. And they take less space in the home, car or luggage. 
The major challenge is finding the best foldable crutches for traveling. Some crutches have parts that wear out fast. Others even break, cause you to fall, cause pains, or tips tear fast. So, let's look at the best foldable crutches for traveling.
Ergobaum Prime presents an impressive and innovative forearm crutch. The manufacturers thought of almost everything that will make you comfortable all the way. With each part adjustable, you get the maximum comfort for a mobility aid.
Ergobaum Prime uses medical-grade aluminum to ensure it can withstand pressure. The toughness of the aluminum helps it carry your weight even at 350 Lbs. No worrying about falling due to the high-performance non-slip tip. Don't forget the shock absorber feature.
Having a contoured handgrip helps make the Ergobaum firm and sturdy. And if you feel tired, you can place your knee on the knee rest. At night, the flashlight provides illumination. In addition, you can enjoy increased security by using the LED light and alert button.
With such adjustable parts, you can increase the comfort you wish. For example, the adjustable-height settings give you 32 to 40 inches more or less. Also don't  forget that the crutch is suitable for persons 5.0 to 6.6 feet tall. In addition, you can adjust the handgrip up to 15 degrees apart. Now, that's what makes the Ergobaum incredible!
Drive Medical offers impressive adjustable parts to make the crutches more convenient. Drive Medical is easy to assemble and disassemble for storage. And it doesn't take up space in your bag.
The crutch is a perfect fit for kids and adults. So, are you 4 feet 6 to 6 feet 6 inches? Then this should be your go-to crutches. You can adjust the height from 38.5 to 62.5 inches to make a perfect fit. And since it carries up to 300 Lbs. weight, you have little to worry about sturdiness.
Using the padded handgrip and underarm rest reduces the pain or pressure upper body. Also, the non-skid contoured tips increase sturdiness and traction on surfaces. 
Carex foldable crutch is a lightweight aluminum crutch for your travels. You get a perfect fit for your kids and adults. So, are you 4 feet 11 inches to 6 feet 4 inches? Then you should find this crutch comfy for home, work, or travel use.
With a weight of 4.5 Lbs, the crutch is a natural lightweight. But it can carry your body weight of about 250 Lbs without flinching. Carex crutch is lighter than most wood crutches but strong enough to withstand your body weight.
The thick underarm pad and handgrip help to reduce upper body pains when walking. Using a finger-shaped handgrip bar increases the firmness of the grip. Adding that handgrip function to the rubber tip will reduce pressure on the shoulder. Also, the rubber tip protects you from slipping on smoother surfaces.
Do you need a travel crutch for your left or right arm? Then, it could be KMINA Pro foldable crutch. It's so easy to store up,  no unscrewing or assembly requirement. You only need to fold the crutch into two and place it in the carry bag. Then, off you go to the airport! Isn't that awesome!
The KMINA Pro comprises fiberglass material. Even the handgrip uses high-grade fiberglass plastic. Therefore, the anti-rust property will increase the durability of the crutches. And, the reflector light on the handgrip tip gives you better safety at night. It helps to eliminate the issue of someone running into you.
The 10 point height adjustment makes it perfect for adults 29 to 41 inches tall. 
In-Motion Pro presents a foldable crutch with several features to relieve upper body pain. First, all you need is to fold the crutches into two. Now, you have a quick way to store up your crutches for your trip. Moreover, it doesn't take up much space.
It has a heavy-duty aluminum steel construction to prevent water damage. And it can withstand pressure or weight of up to 500 Lbs. That means, no limit to carrying human weight. 
The ergonomic handle can adjust up to 13 degrees. With such an impressive grip structure, it makes long-wearing possible. Moreover, using such a grip structure aids the prevention of carpal tunnel syndrome (CTS). However, CTS is an ailment associated with the prolonged use of crutches.
In-Motion Pro shock absorbing and power-assist technology provides excellent protection while walking. The base tip tilts or angles as you move to reduce the pressure. It also has a mechanism that minimizes the impact of forced activities.
So, what's our top pick foldable crutch? Well, the best folding crutches for traveling is the Ergobaum Prime 7th Generation due to its innovative features. The adjustable parts make it fast and easy to fold away. Also, having a flashlight, LED light, and alert button increases safety at night. 
Using the shock absorber technology, you can now have a tension-free and safe trip. However, you should tread with caution if you weigh above 300 Lbs. That's because the crutch may not support weights above 250 Lbs comfortably.
The Drive Medical is an impressive crutch due to its height adjustment function. You can quickly assemble and disassemble the crutches on the go. But you may need a little know-how to assemble the crutches correctly. Also, with the PINs slipping out, sometimes it could cause an accident. 
Carex aluminum crutches fold easily for storing away. The padded underarm and handgrip and height adjustments make the Carex aluminum an exceptional product. But you may require additional pads for the underarm. Also, it takes a little more effort to fix the crutches together. 
KMINA Pro is a foldable crutch with a resistant structure. It also has 10 points height adjustments and a reflector that makes it excellent.
In-Motion Pro is innovative and offers some of the most impressive features for a foldable crutch. In terms of unique features and functionality, you can say the  In-Motion Pro is excellent. 
In-Motion Pro has super shock-absorbing functions that should appeal to someone using mobility aids. But be ready to carry some weight with you as the In-Motion Pro is quite heavy. Also, if you settle for In-Motion Pro, then get prepared to spend a few more bucks.
It's great when you can store up your crutches in an airplane compartment. That's why you should settle for a reliable and foldable crutch.
However, even the best folding crutches must be lightweight and adjustable to meet travel needs. But in addition, it should possess quality materials for durability, sturdiness and be worth the purchase. So, do any of the above-listed foldable crutches appeal to you? Then, you are sure to get value for your money.