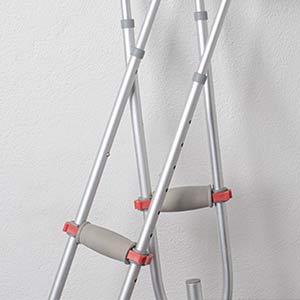 5 Best Crutch Hand Grip Covers
The hand grips on your crutches are just as important as your underarm pads. Using crutches require a firm grip around the featured hand grips, for optimum security. Using crutches for extended periods of time may cause some irritation against your palms and hurt your wrist.
To avoid irritation or any discomfort on your palms, you must reinforce your crutch's hand grips. Here are 5 Best crutch hand grips.
A great pair of crutch hand grip covers is the sheepette. Made using an extremely soft Faux sheepskin that greatly reduces discomfort against the palms and the wrists. This fluffy grip covers keeps soreness and fatigue to a minimum and eliminates any chance for irritation. In addition, it includes extra Removable Foam Padding to offer more support and boost comfort.
You can easily insert the extra padding or take them off for convenient grip size. The breathable synthetic sheepskin featured is made to absorb moister and keep your hand cool. It can easily be washed for a fresh use with no wear off.
You can use these grip covers with any standard crutch or walker. Use the Velcro fasteners featured to lock it in place and in addition, the none slip lining grant excellent grip for more security.
This pair of padded grip covers from vive. Made using contoured foam and latex-free padding. It distributes pressure evenly to limit discomfort along the palms and the wrists. The material used in the making allows it to be breathable and moisture absorbent to keep your palms cool and dry.
Vive pads fit to any standard crutch or walker. With its hook and loop lock, it can easily be adjusted and firmly locked. The pads are also washable for a fresh feeling after each wash.
Crutcheze introduces a pair of crutch hand grip pads designed by healthcare professionals to provide the most comfort. Thanks to the high density foam featured within the pads, it offers more support. The soft stretch fabric fits gently within your palms and relieves any pressure.
These pads are also antibacterial, breathable and moisture wicking with no latex used, for a comfortable safe grip.
You can easily apply the pads to any standard crutch or walker and secure it using the hook & loop fastener.
As the name suggest, update your hand grips and enhance your crutches using these spongy and delicate covers. These grip covers are made of contoured foam, which along the core padded provides a cozy and relaxing touch. It limits and keeps pain and grip fatigue away for an extended and easier crutch use. The latex-free material also insures a safe use with no skin irritation or soreness.  
You can easily install these covers to any standard crutch or walker. Adjusted according to your needs using the hook and loop closures. It features a non-skid surface designed to keep a firm grip with no slipping. These crutch covers are ante-moist and easy to wash after a while of use.
Last item on our list is the adorable looking crutch grip cover. A silky feeling rich fleece featuring soft memory foam core padding that grants a great deal of comfort.
Simply slid the covers over your crutch hand grips, secure it with the hook & loop fasteners, and you are good to go. Fabric absorbs moist and sweat to keep a dry comfy grip and can easily be washed. To wash the covers, separate the fleece exteriors from foam cores.
The quality of your crutch hand grips determines how satisfying the experience is. The standard featured gripes in your crutches may not be enough to accommodate a Long time of use. Your palms may get irritated and your wrist may ache after a while of leaning on your crutches.  Choosing a pair of hand grip covers to help deliver more support, comfort and eliminate irritation is a wise thing to do. 
Based on our assessment, we nominate the Vive Sheepskin Crutch Grips Cover. The soft faux sheepskin promotes the best of comfort and maintains a healthy grip that limits any type of ache. Due to breathable synthetic sheepskin, it stays cool and dry, which is very import for more security and relaxation. You may try different covers and sort through what suits you best for an enjoyable crutch use.