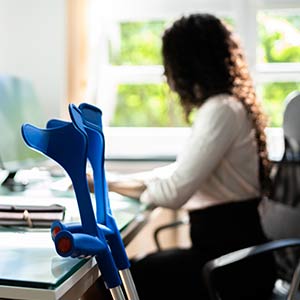 Moving around with crutches is not an easy task. That's why you need the best crutch holder to help store the crutches when not in use. 
A reliable crutch holder gives you a secure and safe way to hold up crutches. With the unique system, you can keep crutches secure without slips. However, how do you find the best crutch holder for your needs? Let's find out!
Sticky Safe walking stick holder is an exciting addition to your mobility needs. It is solid and amendable. That means you don't have to worry about the crutches dropping when laid on the wall. What you have now is a non-slip stick holder. You can also attach the stick holder to a wheelchair or scooter, and off you go! 
Sticky Safe has a 2 x 17 inches flexible foam-like wire that makes moving around or relaxing easy. They can twist and are super strong for holding up the crutches.
Since the Safe holder comprises flexible rubber, you can easily bend it to fit. That makes attaching it to crutches or wheelchairs easier. Using black makes it compatible with any color shade of crutches, wheelchair, or scooter. Most crutches come in silver hues, and a black holder will fit perfectly.
Crutcheze cane holder twists perfectly to keep your crutches from falling off. In addition, you get three hooks instead of two holders. So, that makes holding up your pair of crutches easier. Three holders are additional perks for your purchase.
The Crutcheze cane holder can twist or bend with ease. That ensures you can hold your crutches in place. Due to the firm foam exterior, the holder remains sturdy on the crutches. That's why it does not fall off once attached to a wheelchair, scooter, and more. But the internal metal helps increase the durability. Now, you can enjoy the holder for years.
However, you may have to straighten the holder sometimes. It is because it tends to loosen up a bit after several twisting onto surfaces. But it only requires turning the other way to unwind.
You get a 60-days money-back guarantee with your purchase. So, if you are not satisfied, please feel free to request a hassle-free refund.
I like the Nova cane holder because it looks sturdy and firm. It offers incredible ergonomic value for your crutches' support needs. The structure is to snap on the crutches on one side of the tube. You can then snap on the other side, walking cane, wheeler, or other surfaces.
Nova cane holder comprises thick plastic. That guarantees durability. Since it is plastic, it can withstand the elements to keep you safe and dry. If you use the holder appropriately, then you will experience fewer slips. In addition, your crutches should be safe from falling often. 
Having a one-inch diameter makes it perfect for 7/8 inches diameter crutch tubes to fit in. But the major drawback is that smaller or larger tubes will not fit. However, such a snap-on design structure may limit the places you can use the holder.
Bodyhealt Adjustable holder offers a crutch holder with outstanding ergonomic value. The good part is that it works perfectly with not only crutches but other mobility aids. I like the Bodyhealt holder because it sits firmly once attached to the crutch and other objects. That makes it sturdy.
However, it requires some time to disassemble the parts and to screw on. You can also use the Allen wrench to tighten the holder to the crutches so that you can loosen or fasten the crutches at any time.
Black is a conventional color. So, the color should blend perfectly for crutches, wheelchairs, or walkers. Moreover, the black plastic comprises durable material to ensure it lasts for a long time coming. And it should also help keep the holder firmly in place.
What makes the Diestco B6313 unique is that it is a storage bag. Diestco offers an incredible choice for underarm and forearm crutches. That's because both crutches cannot stand along without support. 
It means you can have your forearm or underarm crutches inside the bag. Then, you can secure it to a manual wheelchair for easy movement. Now, you have another way to reduce the incidence of slips or multiple falls. 
The Diestco storage bag comprises polyester materials. Therefore, no need to worry about water spills as it is water-resistant. 
Since the bag is a made in USA product, it should offer a fantastic experience. Why? USA-made products strive to follow the regulation of the standard organization of the USA.
With the reflective tape, you can prevent collision with others at night. 
What's the best crutch holder from the list? It is the Diestco Crutch bag for several reasons. First, the Diestco effectively carries the crutches without slips or additional weight. But you also get enough space to store other supplies like your drinks.
With the Diestco, you enjoy a secure carriage using the hooks and look strap. Also, the reflective tape increases safety.
The StickSafe Walking stick holder will no doubt hold your crutches in place. It also works well for scooters and wheelchairs. But you may have to deal with it shifting when on smooth surfaces.
Crutcheze cane holder gives you three as against one or two for other products. The impressive part is that the holder twists perfectly to suit the crutch and wheelchair. Having the hanging stick increases the sturdiness. If you feel dissatisfied after purchase the 60 days, money-back guarantee makes it a win-win. 
However, the Crutcheze cane holder cannot take up many weights.
Nova Cane holder is unique because of the snap-on design. More so, the choice of unbreakable plastic gives it a sense of durability. However, the one-inch diameter (7/8 inches) for the tube is a significant limitation. Also, any protruding part on the wheelchair to the crutches will make tightening impossible.
Bodyhealt cane holder is an impressive fit for different mobility aids. It also works for all sizes and shapes. But it may be slightly technical to install the upper and lower holder cups. And there is no instructional manual to help.
Picking the best crutch holder from the above list may seem tricky. But the truth is, we have a variety of options with their uniqueness. However, when making a purchase decision, let your lifestyle and duration of use serve as a guide.