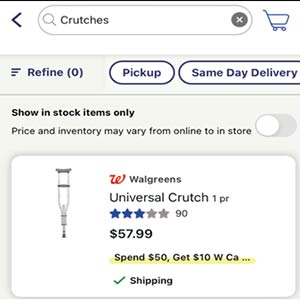 Easy Buy Crutches at Walgreens Guide (Step by Step)
Walgreens is one of the biggest pharmacy store chains in the united state. The leading drug company offers all that is related to mobility aids, personal care, medicines, vitamins and supplements, and medical equipment, even beauty products.
Does Walgreens Sell Crutches?​
Absolutely, yes. Walgreens is an excellent place to pick up a durable, affordable pair of crutches. With approximately 9,021 drugstores widespread around all 50 states.
At Walgreens, you can spot great deals on the products you wish to get. You can also save up money by signing up for the myWalgreens rewards program. Moreover, you can sign up for the Prescription Savings Club as well, and get a discount on your medicine.  
The Walgreens online website offers all that is in-store, and more! You can have your crutches delivered to you the same day of your order. You can also order products that are on sale but not available in your local store. Besides crutches, Walgreens sell crutch tips in case you need to replace your old ones.   
What type of Crutches in Walgreens and crutches price
Walgreens offers various mobility aid devices. You don't have to look elsewhere as you can find exactly the type of crutch you need, in-store or online. Although, certain products are only available online for shopping.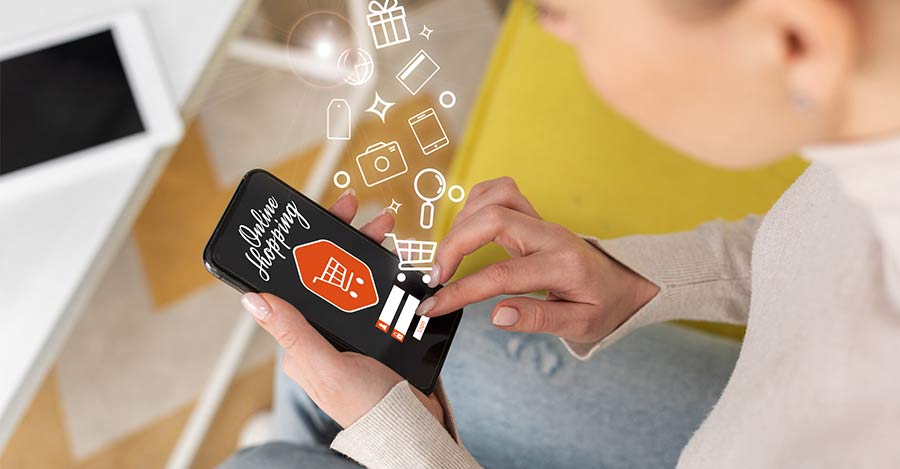 underarm crutches Price in Walgreens
Walgreens offers underarm crutches at a price tag ranging between 30$ and 70$. You might find other more expensive options.
underarm forearms crutches Price in Walgreens
Walgreens stores also sell forearms crutches. You can find a couple of lightweight aluminium forearms crutches which will offer great comfort.
This type of crutches sells for a price range of 40$ to about 80$. 
In addition to the mentioned types, you can also spot a variety of cans if you feel more comfortable using one. Canes start at a price tag of 20$, with some brands up to 60$.  
How to buy crutches from Walgreens' online website?
Shopping from Walgreens' website has its own pros.
Through the comfort of your house, you can order your desired product. It may also be possible to have it delivered the same day. Walgreens also offers a phone app so you could browse through the store using your phone.    
Shop from Walgreens' official website:
First, open your preferred web browser and google "Walgreens". Or you can click here to open Walgreens.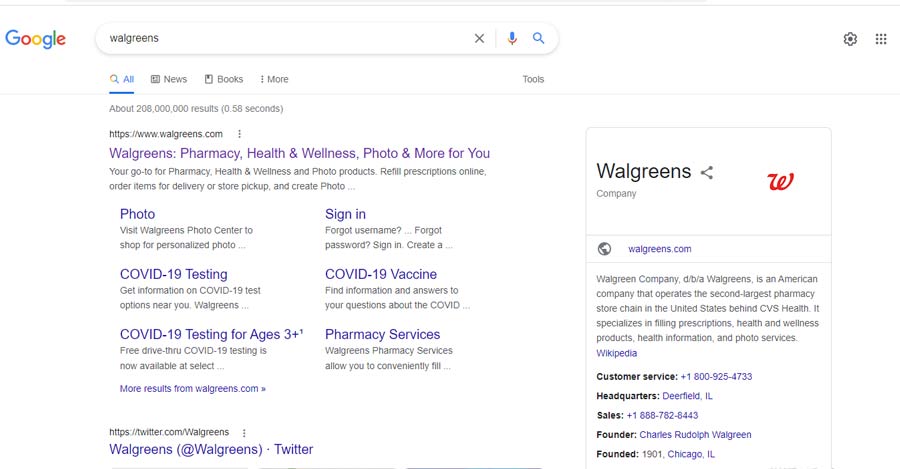 Press on the official Walgreens website on top of the suggestions. In the search bar search for the keyword "Crutches".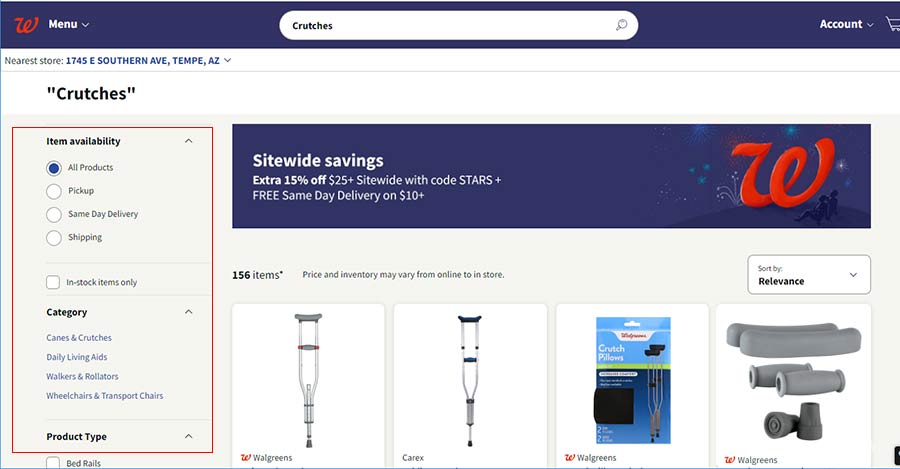 Next, choose and click on your desired product to view it. Select how many pairs you would like to purchase and press add to have it ready for picking up or delivered to your address.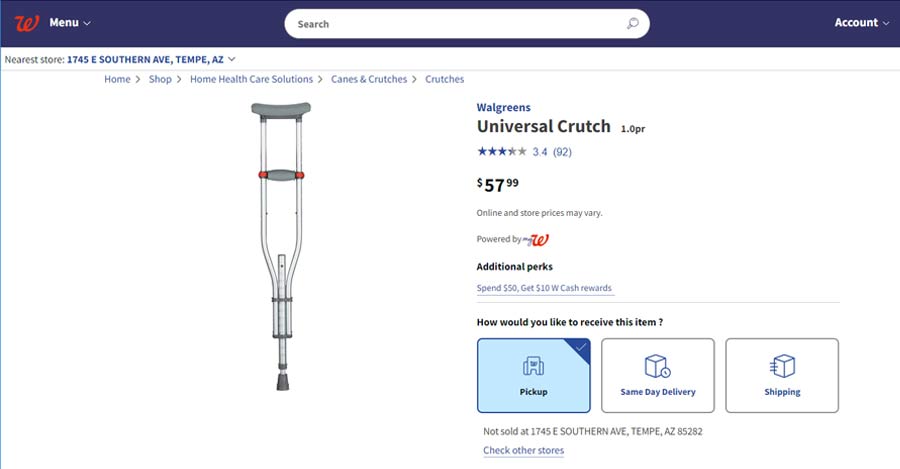 You can choose the store nearest you and pick it up at the store.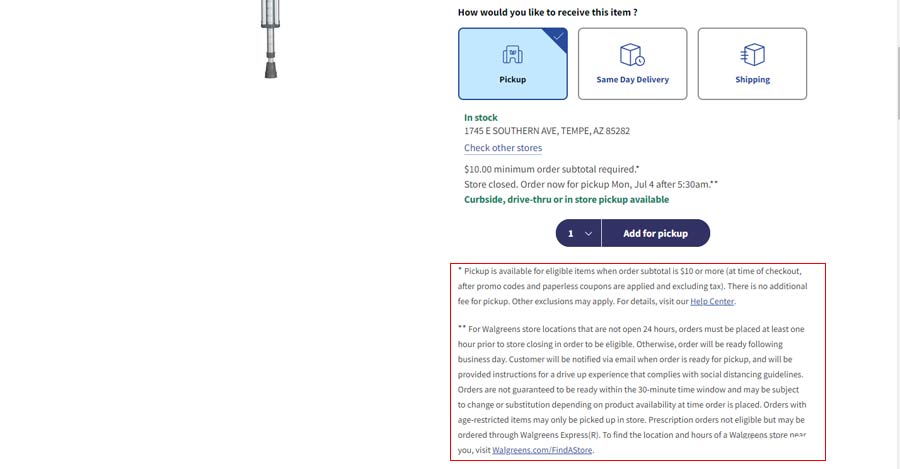 If the product is available in your local store, you can also choose to have shipped to you the same day.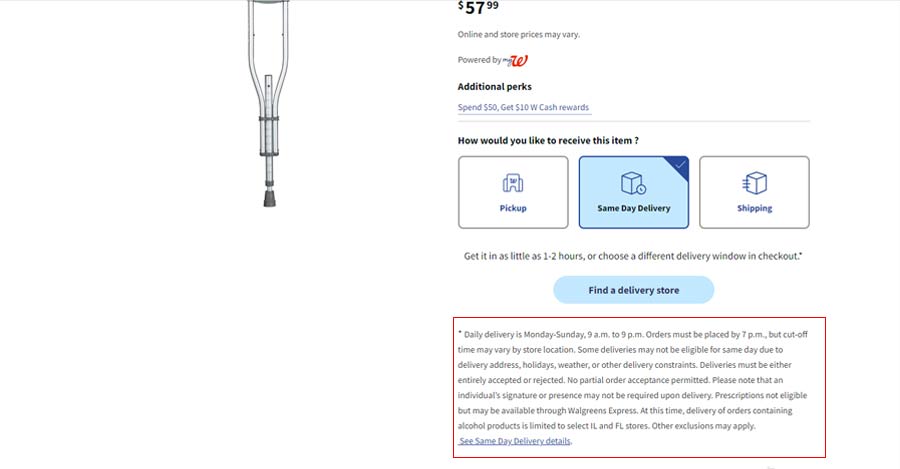 If you choose shipping option, please note the shipping fee and arrive time.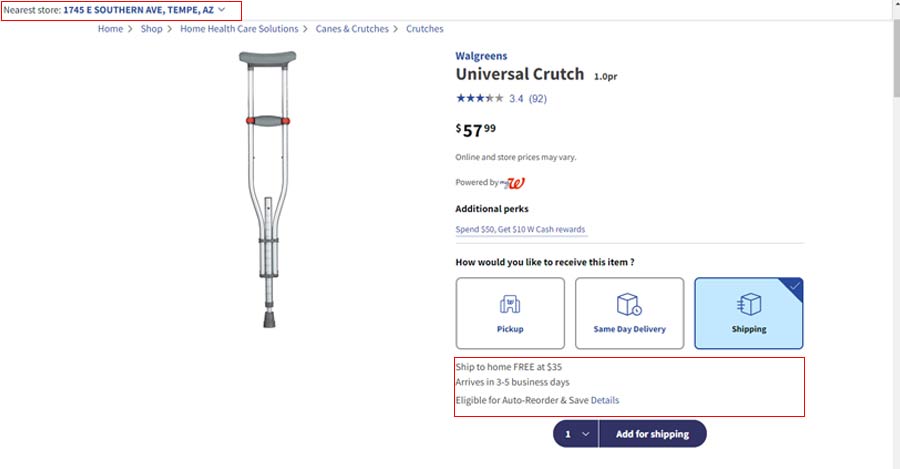 Scroll down to find the description box where several features of the products are presented. You can check for the right size, the maximum weight it holds and the material it's made of. There are also tips and guides on how to use the crutches properly and adjust them correctly right above the Shipping specifications.
Note that some products come with no insurance. Make sure you consider insurance availability before buying.
Select how many pairs you would like to purchase and press add to have it ready for pick up or shipped to your address.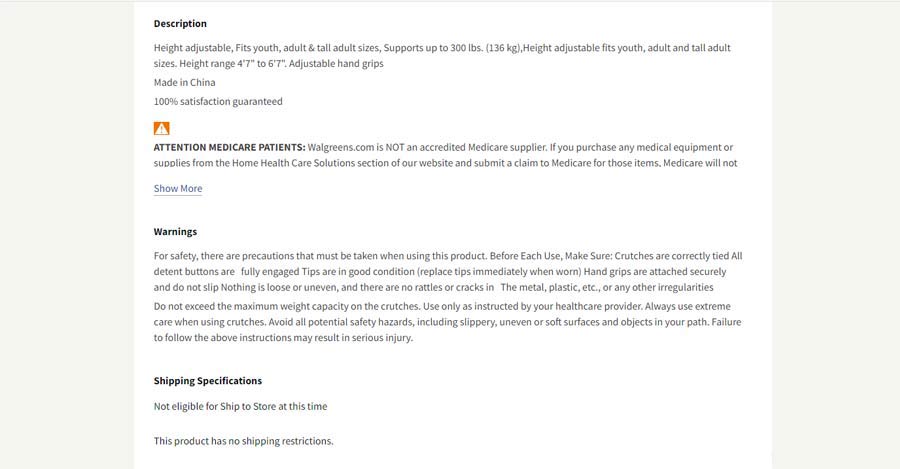 From the pop-up window click on "view cart" or on the shopping cart on the top right.
At the bottom, click on "proceed to checkout'' to finish your purchase.
The Walgreens website accepts payment through PayPal or by using a credit card. You can as well use promo Codes & Coupons acquired from previous purchases.
Click the link to check the Walgreens Coupon Policy. Finally, after you click on "proceed to checkout'' the website will ask you to provide your contact information and ship-to address.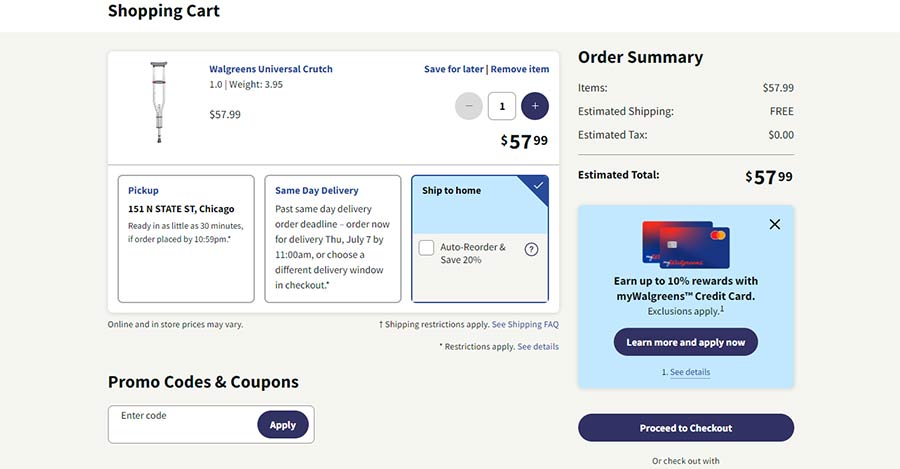 How to Shop Crutches on Walgreens app
Download the app from either Google Play or App Store. Open it and search the keyword ''Crutches'' in the search box.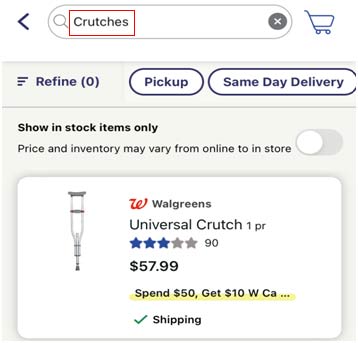 Select your desired pair of crutches to view it and choose whether you want it shipped or picked up.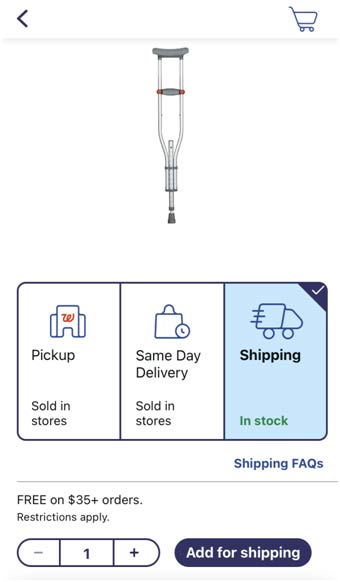 Go to your shopping cart and click on "proceed to checkout".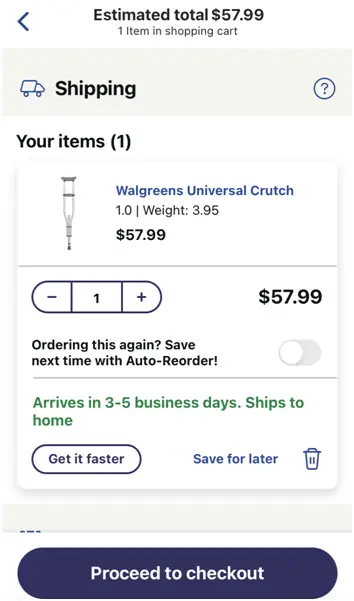 Can you rent crutches from Walgreens?
Walgreens stores do not rent crutches. While many other drug stores may have a renting section, unfortunately, Walgreens doesn't. Good thing is, there are many resources where you rent crutches or even get them for free. 
You can surf the Internet for a medical equipment organization that rents crutches. The renting period varies from place to place and it depends on the disability you suffer from. Here is a complete guide to help you find a good place that rents durable and reliable mobility device 
Walgreens offers a renovated, convenient, and wholesome shopping experience. Both online and in-store provide all the essential goods a person might need. From home goods to beauty products to pet food! What started as a pharmacy, now provides citizens with all kinds of products to fill their needs. 
If you need a pair of crutches for an unfortunate injury, you don't want to miss on Walgreens inventory. They offer inexpensive crutches, which are durable and strong, in addition to all the great deals and discounts you can get. Make sure to register for your local store's saving plan, and watch the website for sweet deals.