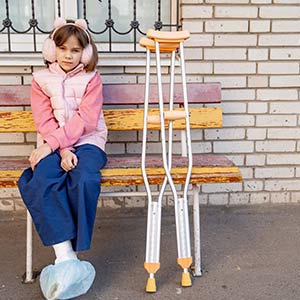 Kids tend to be very active. They love to run around, jump up high and have fun practicing different activities.
As a parent, it is important to keep a close eye on your kid, but even with that, accidents can still happen. In case of a leg injury, your kid will need a pair of crutches to walk.
It falls into parents' hands to find suitable and comfy crutches. Here are 5 best crutches for kids, to help you find a great pair of crutches for your kid.
Whether it's a foot injury from a soccer game, a broken leg or a mild fracture, these crutches are here to help. Made of heavy-duty aluminum that offers great resistance.Crutches come Completely pre-assembled including underarm pads, hand grips and tips.
With the soft padding used in the making, they keep the armpits and the palms protected and with no soreness. The tips are also high quality to ensure safety and stability while in use and keep maximum traction.
The PCP crutches are a great choice for kids. With only one button, they can be adjusted to accommodate a height of 4'0″ to 4'6″ and support up to 300lbs. Follow the Printed height scale for an easy and a quick adjustment.
With their cute and appealing design, these crutches are perfect for kids and teens.
They come fully assembled and ready to be used. Built with a robust aluminum that is very lightweight to make them easy to handle, and to guarantee a long time of use. Featuring two cute and fun designs that your kid will surely love.
Padding used in the making is very comfortable and protective to avoid irritating the armpit and the hand palms. With only one push, these crutches can be adjusted to accommodate children height of 4'5″ to 5'1″.
Having to use crutches may be a little demanding. Apart from being lightweight and comfortable, carex crutches offer a great feature. These foldable crutches make traveling with crutches a lot easier. With only one press, crutches could be folded and  be stored easily.
These crutches feature sporty blue crutch pads and grips that are soft and delicate against the skin. They are made of featherweight yet solid aluminum to make usage easy for users, it can support up to 250lbs.
Height is no problem with carex crutches, with an adjustable height of 4'11" – 6'4″ they suit both kids and adults.
These are another great pair of crutches from Drive Medical Store, both for children and adults. Embedded with durable and comfortable pads, that stay soft and relaxing. The aluminum used in the making, makes them lighter than wood, durable and easy to maneuver.
Using the Euro-style clips and push-pin adjustments, you can easily adjust the crutches to the desired height. They are also very easy to disassemble to be more suitable with traveling.
Anyone with a height ranging between 4'6″ to 6'6″ can use these crutches with no difficulties. Despite them being lightweight, they are very strong and can support up to 300lbs. The Non-slip, jumbo-size vinyl contoured tips also provide extra traction for more safety and endurance.
Last but not least, the life crutches will take your child's experience to the next level and make walking fun again.
Unlike the usual crutches, these come with a 12'' cushioned cradle that helps greatly while in use. The foam rubber padding helps minimize friction and avoid any irritation for a comfortable use.This crutch also features ergonomic hand grips that keep the hand at a neutral position. It protects your wrists from any pain or nerve damage.
The innovative design helps keep your posture at a correct position for a long and comfy use. In addition, the articulating tips maximize terrain grip and work greatly with different terrains, granting more safety and stability.
The life crutches are suitable for children and adults. You can easily adjust them to suit heights between 4'6″ to 6'7".
When it comes to children, they may not be that patient, especially when it comes to treatment. If your kid requires a pair of crutches, you need to check several elements before getting him/her a mobility aid device. A suitable crutch for kids is one that fits and accommodates their height, durable and comfortable against a child's skin.
Based on our research, the PCP medical style Crutches would satisfy every need your kid may have. They can easily be adjusted for comfortable use and the padding is solid and protective. Not to mention that they are reasonably priced. Pick the PCP medical style crutches and let your kid enjoy walking again.