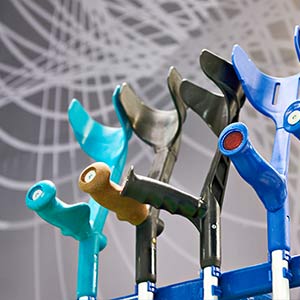 5 Best Lightweight Forearm Crutches
Lightweight crutches are impressive, and that's why I like them. Have you found the best lightweight forearm crutches? Then you will appreciate them better, especially the crutch that suits your lifestyle. 
What makes lightweight mobility aids incredible? Most lightweight crutches comprise aluminum and medical-grade plastic. And aluminum is light and inexpensive, unlike metal alloys. That's why lightweight forearm crutches are durable, lightweight, and affordable. In addition, a person using crutches already has mobility issues, no need for more weights from the crutches.
So, for elderlies and even kids, a lightweight crutch takes care of the problem of additional weight. Besides, it helps users build more upper body strength. But how do you decide which crutch is best for you? Let's find out now.
In-Motion foreman crutches make use of several unique features to make mobility simpler. At every point on the cylinder sleeve, there's something to reinforce the crutch. That's why it can carry up to 350 lbs. of body weight.
The articulating tip has a power assist and spring absorption function. That helps to reduce pressure on the upper shoulder. It can also rotate up to 180 degrees to increase comfort. As you walk, the springs take up the shock. 
Also, the versatile tip can maneuver based on your body movement. As a result, you have up to 80 percent maneuverability. That means better comfort when moving around. In addition, it results in less pressure on the arm and shoulder. 
Using the ergonomic contour handgrip will result in less pressure on the fingers. The handgrip takes the shape of your hands, so you experience no pain, no sweaty palms. Add that to the closed arm crutch, and you have a stable movement. Are you 4″9″ to 6″3″ tall? Then you get a sturdy crutch to walk around pain-free.
Medline MDS805161 can carry up to 250 Lbs. weight but is light-weighted. It comprises a mirror-like heavy-wall aluminum tubing to withstand your body weight. The internal bushings and locknuts help keep everything intact and sturdy.
With the vinyl coated and contoured open arm cuffs, you can move around freely. The arm cuffs also absorb the pressure on your arm and shoulder. Using the contoured handgrip will further reduce upper body pains. That means pain-free movement.
You can enjoy your crutches for a long time. And that's because the black coating on the crutches helps to hide scratches.
Ortonyx foreman crutch offers you a genuinely lightweight crutch at 1.15 lbs. The open arm cuff gives you more room to move your hand while walking. That makes it easy to adjust your hands on the go. However, an open arm cuff has limitations. For example, you may find it challenging to pick items without the crutch falling off.
You also get the ergonomic finger-shaped handgrip for better grip. It takes the shape of your fingers and therefore increases firmness. That means less sweaty palms and a firmer grip.
The high-density aluminum crutch remains sturdy enough to carry your body weight of up to 308 lbs. With a pair of crutches, you can move around with less pain in your upper body. 
Ortonyx has an impressive anti-noise and anti-slip tip that protects you from falls. So, whether it is a rough or smooth surface, you can move around in comfort.
Vive forearm crutch pair gives you corrosion-resistant aluminum tube crutches. That means it can stand squarely against the elements without rusting. Also, the non-skid rubber tip should hold well on any surface.
You get a pair of open arm cuffs. And they hold well across the back of your hand and won't hurt or cause pains. When you rest on the cuffs, the vinyl handgrip and rubberized tip will help for sturdiness. That's why the crutch can take up to 250 Lbs—body weight.
Vive forearm is a standard heavy-duty crutch that suits anyone 5 to 6 feet tall. You can use the 1-click adjust to take the height up or down. With the reflector on the tip of the handgrip, you enjoy better security at night.
So, why not try the Vive forearm crutches out and enjoy pain-free mobility and stability walking. With the 60-days money-back guarantee, you can return the crutches if you are not satisfied
KMINA Pro presents a truly lightweight carbon fiber crutch. All you need do is disconnect from the joint and fold it into two. Then, at 1.3 lbs. weight, simply put into the carry-bag and tuck away in the airplane's compartment. It's so light that you don't notice its presence, plus it doesn't occupy space.
KMINA Pro has a single unit of open forearm cuff made from vinyl and rubber. That helps to guarantee a pain-free experience. Add that to the unique rubberized handgrip and tip, you get sturdy movement. The handgrip also has the reflector light in front for increased security at night.
Using carbon fiber in the production of the crutches increases the trust rating as an anti-rust product. That gives more guarantee of holding up persons weighing close to 300 Lbs. Are you quite tall? Then you can use more of the height adjustments at 29 to 41 inches. The pin/clip helps to secure the adjustments properly. 
The use of fiberglass makes the handgrip incredibly soft and the reinforced plastic reflector for safety.
in-Motion Forearm Crutches is the clear winner of the review. In-Motion incorporates all the innovative features that make using crutches more trendy and comfortable. The custom-made handgrip, rotating open-arm-cuffs, spring-assist technology, and shock-absorbing tip make it a breeze. Suppose you are 4-6 feet tall and weigh as much as 350 Lbs. then this crutch is a perfect fit.
Medline MD805161 and the in-Motion both have loosened pin or clip that proves problematic. Also, the open arm cuff works well for some people. The other features that make the Medline incredible products include height adjustment and reinforced handgrips.
Ortonyx forearm crutch gives you an adjustable height crutch with open cuffs. But with the ergonomic handgrip you can reduce the sweaty arms. The finger-supported handgrip reduces friction on the arm to make it sturdier. The high-density aluminum tubing provides durable but lightweight crutches for moving around.
Vive forearm crutches use corrosion-resistant aluminum tubes that can withstand the elements. You get an open forearm crutch with a push-button rubber handgrip. The non-skid rubber tip keeps the crutch sturdy, while the one-push button handgrip makes it perfect for any height. However, a rubber handgrip is likely to be painful on the hand.
KMINA Pro use of carbon fiber material and the folding function makes it truly light-weighted. Other impressive parts include the open forearm cuffs and vinyl handgrip for a firm grip. The rubber tip makes it sturdy, while the reflector handgrip increases safety around the home. Unfortunately, the KMINA Pro is a bit on the heavy side.
If you ever had surgery after an accident, you may require crutches short or long-term. Picking the best lightweight forearm crutches is going to make a significant difference in your health.
Some crutches manufacturer includes additional feature like reflectors to make their product stand out. It should also have the standard rubber tip, contoured open or closed arm cuffs, and shock-absorber function.
But the ideal crutch must be lightweight and pain-free to be exceptional. If it offers an affordable price, that will be an added benefit. Thus, all five crutches under review here passed the test. Therefore, whichever crutch you purchase will serve your mobility aid need.