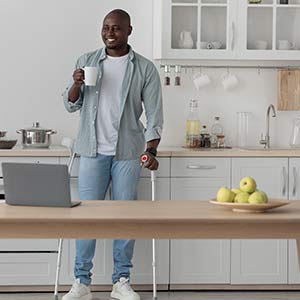 Why do we need a new crutch design? Do crutches only carry the body's weight after an accident or surgery? Yes, that may be true. But, innovative design in mobility aids helps to give patients greater freedom. 
Crutches designs help in supporting body movement. But also, they should ease body aches and increase comfort. That's what reinvented crutches do. So let's explore some new crutch designs and brands. 
Emile Schlick made the first commercial crutches in 1917. And it was due to injuries suffered by World War I returnee soldiers. Then, A.R Lofstrand Jr. made customized height-adjustable crutches a reality in 1945. 
I suppose their expedition served as a springboard for reinvented crutches. Finally, Max established the M+D crutches. But he got inspiration from seeing his father struggle with underarm crutches. His dad was an above-the-knee amputee. Max's dad suffered from severe pain using underarm crutches. It resulted in damage to the nerves around the hands.
M+D crutch is a collaborative effort of Max and his wife, Lillian. They teamed up with occupational and physical therapists to produce innovative and adjustable crutches. Also, he acquired a studio space for their invention.
Max Younger and his team developed between 1,200 to 1,500 prototype crutch designs. Finally, they created crutches that support the forearms and elbows to reduce bodyweight. 
Mobility Designed LLC finally came into existence in 2015. Lillian Younger was the first Co-founder & CEO. She was to help drive the marketing of the mobility crutches.
About M+D Crutches Technological Innovations
Every aspect of the M+D crutches is an innovative improvement from the regular crutches. For example, it uses adjustable heights suitable for people 4″11 to 6″8 feet tall. Also, the offset handle eases the pains around the wrist and arm. 
It comes with an un-lockable arm cradle with hinges. That makes it easy to move your hands while the crutch is still on. So, you can lock your arms in prayers. You could have a handshake or hug with ease. Thanks to the rotating ergonomic handgrip and push-button, you can move around hands-free.
M+D crutches come with an armband and anti-microbial fabric. The armband makes it easy to slot your hand in and out of the crutches. Unfortunately, you could still experience irritation wearing it for a long time.
Thomas Fetterman Forearm Crutches Brand Story
In 1953, Thomas Fetterman suffered from polio as a toddler. He grew up as an aggressive kid due to his disability. Yet, he was able to strike a balance as he became older.
Fetterman had to live most of his early life walking with under-arm crutches. And that hurt his shoulder and affected his upper body immensely. Finally, he experienced so much pain and had to live on Aspirin.
Thomas Fetterman's pain became an inspiration. Hence, he developed one of the world's most famous crutch tips. He found out that certain types of rubber under the crutches will bounce. That action, unfortunately, is enough to cause a strain on the shoulder. 
Thus, he went into series of research to improve the crutches tip. Thomas came up with the negligible rebound. He added an absorbolite material under the crutch's tip. That helped to reduce the impact on the shoulder and wrist. And that's how he got two patent rights for the crutches' tip.
Ex-President Bill Clinton had a fall while golfing. So, the White House medical units ordered Fetterman's crutches. Then, the President on television referred to the crutches. That helped to boost Fetterman's sales. The crutches have sold hundreds of thousands of more advanced crutches afterward.
Thomas Fetterman Crutches Technological Innovations
Thomas Fetterman carried out an impressive improvement to the regular crutches. Conventional crutches do fall off the arm with ease. But he extended the cuffs further. So, even when lift hands, the crutches stay in place. 
Fetterman laid the absorbolite material at the base of the crutch's tip. Next, he created a hollow part to pour gel into the bottom of the crutches. So, the gel within the concave part serves as a springboard. Thus, while walking, the pressure bounces off instead of impacting the shoulder.
Thomas Fetterman's advanced tip designs had more remarkable sturdiness. But, it's not the same story for the conventional tips. They can cause slips on some surfaces. 
iWalk 3.0 Forearm Crutches Brand Story
Lance started as a farmer in Ontario, Canada, over two and a half decades ago. But he had a terrible incidence that resulted in a broken foot. Now, life became a bit unbearable walking around on conventional crushes.
Lance says, "crutches were tremendously impractical, ridiculous and uncomfortable." But, as the saying goes, "beauty in adversity." Lance's adversity became a stepping stone to something incredible.
He decided to put his skills as a carpenter to good use. Within an hour, Lance had constructed an alternative crutch out of wood. That wooden invention finally gave birth to the first iWalkFree prototype.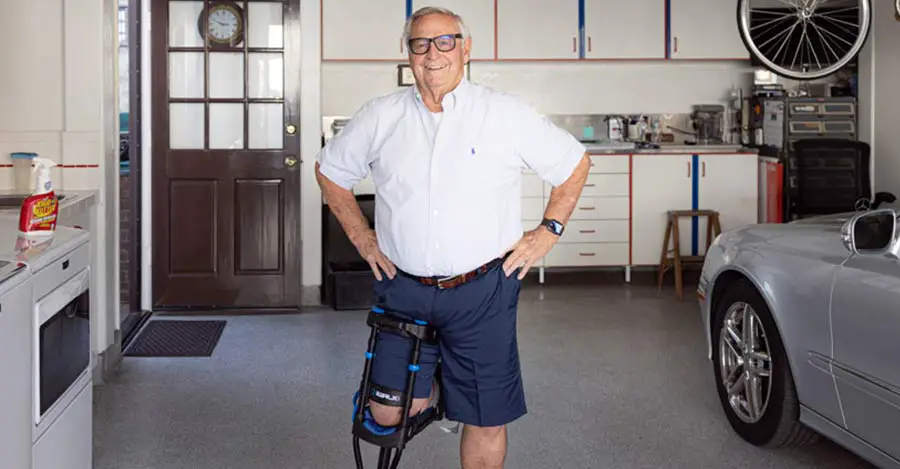 Lance's wooden crutches made moving of no burden to his arms or hands. He became excited! Now, he could go back to his regular activities with minor restrictions.
The wooden crutch was a personal invention. But it didn't take long to attract the attention of medical personnel. Finally, orthopedics at the Sunnybrook Health Science Center, Toronto, suggested a prototype clinical trial. By 1999, Lance and the research center got patent rights for the iWalkFree.
iWalkFRee got the Medical Device Establishment License in 1999. So, the Minister of Health declared iWalkFree a Class 1 medical device. On June 2,000, iWalkFree became available to Canadian Consumers. Today, it has US FDA and Certification in Europe (CE) approvals.
iWalk Crutches Technological Innovations
The iWalk 3.0 Hands-free crutch is an impressive alternative crutch. It leaves you one hundred percent hands-free and moving around. iWalk 3.0 is one of the most innovative crutches alternatives, with no upper body contact. That means no pain while walking around.
The iWalker 3.0 is well-fitted with several joints to help keep the device stable. It comprises high-quality extruded aluminum and plastics. The peg leg contains a lateral component to appear like an actual foot. You can call it one of the genuinely hands-free alternative crutches.
Not everyone can use iWalk3.0. So, you may need to confirm with your doctor if iWalk3.0 is compatible. But it is a better hands-free crutch for below-the-knee medical issues.
KMINA PRO Forearm Crutches Brand Story
Alejandro Vano saw the immense pains and challenges of patience using crutches. So, in 2015, Alejandro envisioned a more comfortable reinvented crutch. He, thus, teamed up with orthopedic specialists to come up with the KMINO Pro. 
Alejandro says the KMINO Pro is the world's first pain-free, stylish and affordable crutches. KMINO Pro makes it easier to walk faster. You are more relaxed and with no pain. You can also climb the stairs with ease and do a lot more.
KMINA Crutches Technological Innovations
It comes with tilted forearm support. That makes it easier to move your hands without removing the crutches. The fastening strap helps keep the crutches in place, so it doesn't fall off. 
KMINO Pro came with a padded forearm and flexible rubberized tip base. Those two plus the and shock absorber make life more exciting for those using crutches. That means you don't feel the pressure on your armpit, wrist, or shoulder. 
You can have the crutches on and still carry out other activities. All you need to do is push the rotating handle to one side. Then you can bring out your phone to take a call. Your hands are free for a handshake; pick a teacup and more.
With KMINO Pro, you can adjust the height or forearm length to your desired size.
Crutches, no doubt, make life a lot easier for people with mobility issues. And the advancement in new technological design in crutches means greater comfort. So, people using mobility aids can live pain-free now.