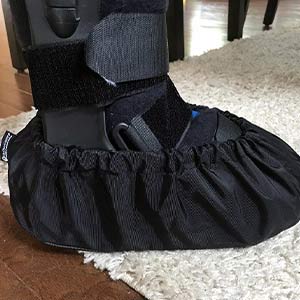 5 Best Walking Boot Covers
You need a walking boot cover if you want to make your life easier while wearing a walking boot. A walking boot cover will protect your boot and foot from dirt, mud, rain, puddles, and other outdoor and indoor conditions. This, ultimately, improves the longevity of your walking boot. 
We know that finding the perfect cover for your walking boot can be difficult. That's why our article focuses on sharing expert knowledge about the best walking boot covers. Continue reading to learn everything you need to know about the best walking boot covers. 
Best 5 Walking Boot Covers Reviewed
One of the worst things about wearing a walking boot is figuring out how to easily and conveniently protect it. Luckily, those who favor convenience when it comes to walking boot covers can turn to the MyShoeCovers walking boot cover. This cover is easy to slip on and only covers below the ankle section of your leg. 
Yet, this walking boot cover is worthwhile because it will keep your floors free of markings and your bedsheets free of dirt. Often walking boots can attract dirt and mud and get into the grooves and straps of your boot. With this cover, you can ensure your home stays clean. 
This walking boot is also handy for keeping your foot warm and dry against the rain, thanks to its waterproof fabric. Many also love that since its cover is reusable, machine washable, non-slip, and safe for indoor and outdoor use. Yet, despite its positives, some have had issues. 
Some users have found this cover not to be super durable and to start breaking with daily use. Other users have not liked the fabric as they say it overheats their feet and is too hot. 
If you have feet that like to sweat like me, you might want to consider the Beyond Extra Wide cast socks. These cast socks are widely recognized as one of the best for moisture-wicking and controlling foot odors. This is thanks to the socks' specially treated fibers. They are also machine washable, which comes in handy when you struggle to do daily tasks. 
The Beyond Extra Wide cast socks can be used by those who suffer from conditions that cause extreme foot, ankle, and leg swelling. Their superior stretch design means they will fit your cast and be comfortable. After all, these socks can stretch 30 inches at the calf and 21 inches at the foot. 
Additionally, the Beyond Extra Wide cast socks won't fall down your cast, are unisex, and one size fits all. As with other cast socks, some customers have had complaints. A few have had issues with the sock fabric snagging easily.
Those who must wear a walking boot for a few months or the long time should consider getting an all-season capable cover. One of the best all-season walking boot covers is the one you can get from My Recovers. This cover has been designed with superior quality material and the ingenious design. 
The My Recovers walking boot cover offers a universal fit, meaning it can fit most walking boots. You can still use this cover even if you switch out one walking boot for another in between seasons. It also has an open foot design at the bottom that allows your foot to breathe and an easy-to-use zipper at the back. This zipper makes putting it on and taking it off easy. 
Some have been less than impressed with this cover. Some have said it doesn't last long, and the fabric wears down fast. A few have also had problems with the zipper at the back-breaking. 
If you're someone who penny-pinches or is on a budget, you need a durable walking boot cover. One of the most durable walking boot covers is the one offered by My bow health. This cover will keep your foot dry, clean, and warm while protecting the boot from the elements. 
Unlike other walking boot covers, the Mybow Health one is made to last, with three fasteners. These fasteners are a securing button, a zipper, and buckle straps. You can trust that your cover isn't going anywhere when all of these features are engaged. 
Additionally, this cover is made out of durable polyester and is waterproof. It's also designed with diamond grain and can be put over your left or right foot. However, even though it's waterproof, it can't be used in the shower or while swimming because it doesn't cover the bottom or seal. 
This one has a few drawbacks, according to some users, like all walking boot covers. For example, a few found this cover  cannot keep their walking boot dry enough. Others found it not as secure as it claims to be. 
Not all walking boot covers are made with boring colored fabric. One of the most colorful covers you will find is this My Recovers one. This cover has a beautiful multi-colored pattern design that draws the eye. Yet, besides being vibrant, its other huge benefit is that it is infinitely usable. 
With this walking boot, you can use it every day because of its four-way stretch fabric that is breathable and washable. It's also easy to put on and take off thanks to its zippered back, and it has no velcro. Without the velcro, you don't have to worry about snagging your clothing and potentially unraveling seams. 
Since it's open at the bottom, you needn't worry too much about breathability. Yet, this can be detrimental if you come across huge puddles or have to wear this during the rainy season. In addition, there are a few other things users doesn't like about this walking boot cover. 
For example, many found this cover to be not too durable as it tore easily. Some have also found it to fit too loosely, and others have had a used cover sent to them. 
You'll likely be satisfied no matter which walking boot cover you choose. Each of these covers is ideal for their individual purposes, so you're likely to find one that suits your needs and wants. 
In our opinion, the ARUNNERS walking boot cover is the best, but only because we see safety as the first priority. Essentially, whichever one you choose will help you protect your walking boot against dirt, mud, puddles, and the elements without being uncomfortable. 
Are you still  find Walking Boot Socks, you can read our our guide to find them.