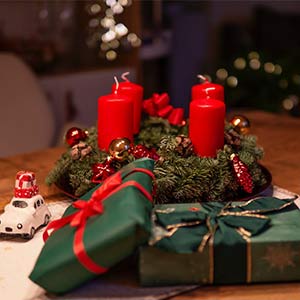 Christmas Gifts For Someone After Foot Surgery
Christmas is one of the most joyous holiday times of the year. We can spend time with family while participating in holiday activities. Yet, the Christmas holidays after a foot surgery can be a trying experience. If someone you love has recently had foot surgery, you need to buy them gifts that they can use and enjoy.
Someone who has had foot surgery is not going to be able to use traditional gifts. This can make gift buying a challenging endeavor. Yet, fear not. We will tell you about 10 of the best Christmas gifts you can buy for someone if they once had foot surgery. 
When someone is recovering from foot surgery, the last thing they want is to be stressed. That's why gifting a coloring book is a good idea because they are known to provide art therapy. There are many different adult mandala coloring in book options available. Many of them come with various patterns. 
This Mandala adult coloring book comes with a hardback cover and spiral binding. It also perforates pages that allow colored pictures to be easily torn out and framed to be put on display. Additionally, the Mandala book from Amazon comes with 50 unique hand-drawn designs. Many hours can be spent on coloring in and relaxing. 
Does the person you care for have pets they adore? You might want to consider buying them a customized pet canvas. They will be spending hours off on their feet while they recover from foot surgery. That's why having a customized pet canvas up on their wall will create a fun space for them. 
On Amazon, you can buy a customized pet canvas where you can upload the image you want to be put on a canvas. You can then change its novelty design elements until you are happy with the result. Additionally, once you have finished customizing the pet canvas, it can be hung anywhere in any house. 
Healing from foot surgery requires a lot of effort. It's difficult to do daily tasks such as doing the laundry and getting some water. This is why a fruit infuser water bottle is one of the best Christmas presents you can get for someone.
When injured, having a BPA-free water bottle that is accessible and maneuverable is best. For example, you they won't need to worry about spilling anything when they walk as this fruit-infused water bottle is leakproof. 
The Hydracy fruit infuser water bottle comes in five colors. It has an insulating water sleeve and a full-length infusion rod. With this water bottle, a person can make 27 different fruit-infused water recipes quickly and easily. 
Showering is always a difficult endeavor when injured. One of the hardest parts of showering with a foot injury is washing your hair. Gifting someone who has foot surgery dry shampoo is clever and helpful. 
By using dry shampoo, hair will stay cleaner for longer while looking beautiful. The Batiste dry shampoo instantly refreshes hair without a need for water. This dry shampoo adds weight and absorbs grease and first to ensure hair looks revitalized. 
Batiste dry shampoo is the world's best dry shampoo. This is another reasons why giving someone dry shampoo on Christmas day is a superb idea. 
Buying someone socks for Christmas might not seem like the best idea, but trust us, it is. The Dickies men's dri-tech moisture socks are the best type of socks for those who are recovering from foot surgery. These socks are machine washable. They are also made with soft, breathable moisture control fiber. They comprise 78 percent cotton, 19 percent polyester, 2 percent spandex, and 1 percent nylon. 
Additionally, they are perfect for those who have foot surgery because they provide arch compression support and stability. They also feature a durable reinforced heel and toe and come in a variety of different colors. 
It's important that those who have recently gone through a foot surgery rest. So what would be a better Christmas gift than the Lunix orthopedic bed wedge pillow? As weird as it may sound, this wedge bed is one of the best devices for those recovering from an injury. The Lunix orthopedic bed wedge pillow is made with premium quality 45D memory foam. It will adapt to a person's shape and body. 
Best of all this bed wedge pillow can be used to watch television, read, or sleep in. This is because it has been designed with comfort in mind. Additionally, this bed wedge pillow is suitable for men and women. It is wholly adjustable and comes with a washable cover. 
Sometimes the best gifts are the ones that provide convenience. When a person is recovering from foot surgery, it's often difficult to use the bathroom. That's why gifting them a Vive toilet seat riser that has handles is a smart Christmas gift choice. 
The Vive seat riser with handles will add 3.5 inches of height to a standard toilet. It is uber easy to install as it requires a tool-free installation. If you are worried that it is not a safe device think again. The Vive toilet seat riser has non-slip handles and an interior lip that has slip-resistant strips. This toilet riser can support a person of up to 300 pounds, so you're guaranteed it's durable.
Has someone in your life recently had this type of surgery? After every foot surgery, there is pain involved. One of the best Christmas presents you could get them is a pain management book. The "Prepare for Surgery, Heal Faster: A Guide of Mind-Body Techniques" book to be exact. 
This book has several techniques that teach someone how to reduce their anxiety. It also teaches them how to use between 24 to 50 percent less pain medication. Moreover, it demonstrates documented research. That's why it is recommended by the NYU Langone Medical Center and Brigham. 
Christmas time is meant to be fun and exciting. Yet this doesn't mean the only way to have fun is to do physical activities. Those who have had foot surgery can enjoy some relaxing fun with a Kindle Paperwhite. There is 16GB of internal storage on this device. Thousands of books, comics, and audiobooks can be loaded on it at once. 
Additionally, a Kindle paperwhite has a front flush design and a 300 PPI glare-free display. It also features a superb battery that lasts weeks on a single charge. It also has a built-in adjustable light that can be set for those who enjoy reading indoors and outdoors.
When someone is bed-bound during recovery after foot surgery, it can be difficult for them to work or watch movies in bed. So why not gift them a Tek laptop desk? The Tek laptop desk is specifically designed for beds. Its height can be adjustable with its folding legs, and it is ergonomically designed, which means that it's good for your health.
Other things that are nice about this desk are that it's lightweight and portable. It is also sturdy with an anti-slip feature. There is no need to bother worrying about damaging a laptop while using it on this desk. Best of all, you can also use the Tek desk as a travel desk, gaming desk, reading table, and breakfast tray.
Now you know the ten best Christmas gifts to buy for a person who has had foot surgery. Every one of these ideas would be a good buy. They can be used by those who are recovering. Some gifts will help them move around less, like the Hydracy water bottle and the Vive toilet seat raiser. 
Others will allow them to be entertained, such as the Kindle paperwhite. Additionally, if you want to gift someone a useful item, the Lunix orthopedic bed might be best. Yet, what you decide to buy as a Christmas gift is your choice, but the options we spoke about are sure to impress!