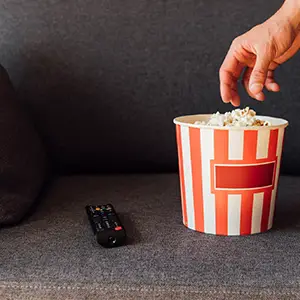 17 Famous Characters On Crutches
You've come to the right place if you're looking for a few famous characters on crutches. We've found 17 of them, with some you might know and others you've likely never heard of before.
1. Michael Morbius - Jared Leto
In the film Morbius, Michael Morbius is a scientist suffering from a rare blood disease. This disease has made him lose mobility and use crutches. He turns himself into a transgenic vampire when he attempts to cure himself. 
Upon becoming a vampire, he gains superhuman abilities but begins losing his humanity. Morbius is played by Jared Leto, an actor and musician who founded the band Thirty Seconds to Mars. 
2.Luke Martin - Jon Voight
Jon Voight played Luke Martin in the film Coming Home in 1978. This film received critical acclaim. This is because of Voight's incredible portrayal of a paraplegic Vietnam veteran "Luke Martin." Martin had to use crutches. 
Luke Martin was based on real-life Vietnam veteran Ron Kovic. Voight received the Best Actor award at the Cannes Film Festival for his portrayal. 
3. Jack Hodgins - T. J. Thyne
The hit television series Bones ran for 12 years. It had a much-loved cast, including T.J Thyne, who played Dr. Jack Hodgins. For all 12 seasons, Thyne played Hodgins. Hodgins was an eccentric entomologist. He was also obsessed with conspiracy theories and in love with Angela Montenegro. 
He didn't use crutches for the entire series. He had to use them after the events in the episode "Aliens in a Space Ship". In this episode, he and Dr. Temperance Brennan are buried alive after being kidnapped. His injuries cause him to stay on crutches for a few episodes. 
4. Walter White Jr. - RJ Mitte
RJ Mitte is one of the few actors to play a character with the same disability in real life. RJ Mitte played Walter White Jr. in the crime drama series "Breaking Bad".
During his time on the show, Walter White Jr. is the son of the main protagonist, Walter White, who has cerebral palsy. His disability lead to him suffering speech difficulties. He also had impaired motor control which is why he uses crutches. 
5. Bering Joy - Lionel Barrymore
The 1949 film "Down to the Sea in Ships" was about a whaling expedition in the late 1800s. It focused on telling the story of an elderly whaling ship captain Bering Joy. Joy walks on crutches and is at the end of his career. 
Capt. Bering Joy was played by the enigmatic Hollywood legend Lionel Barrymore. Barrymore was an American film director and actor on the screen, stage, and radio. 
6. Emily Charlton - Emily Blunt
In "The Devil Wears Prada", Emily Blunt played senior assistant Emily Charlton. During the film, Charlton is shown to be mean and arrogant. But her character softens at the end when she is on crutches and forced to wear a leg cast. 
She doesn't use crutches for very long and only at the end. Yet, she still manages to showcase an air of superiority that befits her character.
7. Benjamin Button - Brad Pitt
One of Brad Pitts's best films was also one of the strangest. In the film "The Curious Life of Benjamin Button", Pitt played Benjamin Button. Button was born as an 84-year-old man who aged backward. 
In the beginning, Button uses crutches because of the frailty of his body. But as he ages and becomes younger, he does not need mobility aids any longer. Button dies as a newborn after living a full life. 
8. John McBurney - Clint Eastwood
In the film "The Beguiled", Clint Eastwood plays the character John McBurney.
He is an injured Union Soldier. Throughout the movie, McBurney has to use crutches while he heals from his injuries in an all-girls school.
While recuperating from his injuries, McBurney seduces two people. The elderly woman who runs the all-girls institution and her young assistant.
9. Katharine Parker - Sigourney Weaver
One of the best films to come out of the 80s was "Working Girl". This was a romantic comedy centered on Katherine Parker, played by Sigourney Weaver. Parker fights to get her idea back after her boss steals it.
In the film, Parker is on crutches. She has to navigate her mobility issues alongside her growing attraction to the man who wants to use her idea. Weaver was nominated for Best Supporting Actress for her performance in this classic. 
10. Macon Leary - William Hurt
William Hunt plays travel writer Macon Leary in the film "The Accidental Tourist". This heartwarming film begins on a sad note when Leary's son has been tragically murdered, and his marriage has fallen apart. 
Shortly into the film, he is involved in a freak accident. This accident puts him on crutches where he is forced to go stay with his quirky siblings. While staying with his sibling, Leary meets a charming woman and is soon forced to choose between her and his wife. 
Well-known British comedian Lee Evans played Tucker in the film "There's Something About Mary". In this movie, Tucker is a supporting character who is another man infatuated with Mary, who Cameron Diaz plays. 
During the movie, Tucker pretends to be an architect who has to use crutches because of spinal damage. But in reality, he is an able-bodied pizza delivery boy. 
12. Gwen Cummings - Sandra Bullock
One of Sandra Bullock's best films was "28 Days". In this film, she portrayed Gwen Cummings, a journalist with a dangerous lifestyle. During the film, Cummings had an alcohol and painkiller addiction, leading to her getting a DUI. 
This forced her to go to rehab, where she had an accident climbing out of a bedroom window and injured her ankle. This injury led to her using crutches while she tried to overcome her addictions. 
13. Christopher Marlowe - John Hurt
One of the most interesting roles John Hurt played was Christopher Marlowe in the film "Only Lovers Left Alive". In this movie, Marlowe is an ancient vampire who uses crutches because of his age.
During the movie, viewers are shown that Marlowe wrote all of Shakespeare's best works and that he is bitter about letting a lesser man take all the credit.
Eddie McGee played Eddie in the film "The Human Race", about a group of eighty abducted people being forced to race to survive.
Eddie is at a disadvantage because, unlike the other contestants, he only has one leg and has to use crutches. Nearly all the contestants die throughout the film, and only one left is alive.
15. Mitch Bradley - Morgan Freeman
Many believe the film "An Unfinished Life" was one of Morgan Freeman's best dramas. In this film, Freeman played Mitch Bradley, who was viciously attacked by a bear that managed to escape into the mountains. 
Bradley tried to save a calf with his drunk friend when the bear attacked him. Throughout the film, Bradley uses crutches and is in constant pain while he tries to help his friend move on from the loss of his son. 
16. James Ballard - James Spader
Many people found the film "Crash" unsavory. But many critics felt it was incredible thanks to James Spader, who played the character James Ballard.
Ballard is in an open relationship in this erotic thriller and psychological drama. He gets entangled in a relationship with Helen, whose husband died in a crash. 
During the film, Ballard becomes embroiled in the lifestyle of people who sexually fetishize car crashes. This leads him to becoming injured and needs to use crutches.
17. Martin Vanderhof - Lionel Barrymore
In the film "You Can't Take It With You",  Lionel Barrymore plays Martin Vanderhof. Vanderhoff was cast as an able-bodied character, but this was altered when he lost the use of his legs because of arthritis and a hip injury. 
During the film, Vanderhoff used crutches and acted like he had a sprained ankle. At every hour of the film's production, Barrymore received injections to help relieve the pain of his arthritis.
As you can see, many actors have been cast as characters using crutches. Each actor did an excellent job tastefully showcasing a glimpse into disabled life in various situations.
No matter the genre, from thrillers and dramas to sci-fi and romantic comedies, there are representations of the disabled or injured who need to use crutches.