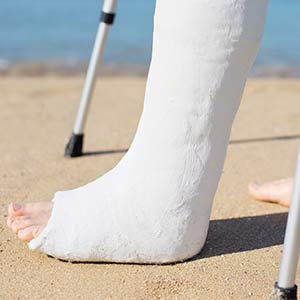 4 Buy Crutches Tips for Sand
The usual standard crutch tips are not suitable for use on sandy terrains. Your crutches will sink deep inside and you'll find yourself struggling to pull them out with each step. This could cause you to fall and worsen your injury. 
If you are planning to visit the beach, or about to explore a sand dune, consider replacing your crutch's tips. After testing on different terrains, we present to you four crutch tips to ensure you get a smooth sail on the sand.
This brilliant product on the list is the SandPad crutch tips by American Ventures.
Using these sand pads grants you easier use. They offer more control with no struggle on difficult terrains. 
Thanks to its flat and rounded base, each tip delivers great support for more balance. It makes an all-terrain stabilizer. Navigate your way through hard and soft grounds trouble-free by installing the SandPads. 
At the bottom, the 3-inch full contact surface ensures stable and controlled steps. It minimizes the chance of loose grip and offers great attraction and more stability. Uneven terrains are no longer a problem with these tips by American Ventures.
The design features built-in drainage channels for water and sand to flow through. You can manage with these tips on all kinds of surfaces and have no dirt sticking on them. Created to fit all terrains and boost mobility wherever you go through all seasons. 
To make stepping with your crutches easier, these tips are lightweight and compact. Each tip only weighs about 0.75 lbs but is very durable and made to resist rough surfaces. 
The Vive crutch/cane quad tips prove to be an excellent product to use on all kinds of different terrains. It makes walking with crutches easy and smooth with the least chance of falling or tripping. 
With its wide and open design, it resists sinking in the sand. This makes maneuvering through sand-covered ground easier. The Vive quad tips enhance your experience and grant you more stability when walking. 
These tips are more than great to handle soft sand. With its innovative design, they provide a stable and supportive base for walking.
The four contact points featured on each crutch tip work on providing more stability. Designed to help keep your balance for your safety. They make grounds covered with gravel, grass, or sand feel like a walk in the park.
The Vive tips increase traction on smooth surfaces. surfaces such as hardwood, vinyl, and pavement. The textured base on each tip boosts security and creates a non-sleep surface. Created to drop slipping risks and assure more liberty with motion.
Made with heavy-duty rubber that flexes and absorbs the impact of each step. This keeps wrist pain and hand fatigue away. The product is compact and lightweight so you don't have any trouble walking when in use. 
The next well-designed and very supportive tips are the ones provided by RMS. Built to withstand soft and rocky terrains, as well as slippery surfaces. A great recommendation to handle sand-covered areas.
With a large 4-prong quad base, they work on boosting mobility and flexibility on the sand. The RMS crutch/cane tips provide help with each step to ensure your safety.
The bottom features an anti-skid rubber that prevents slipping risks. It provides a stabilizing base on uneven grounds. The robust material helps you manage all kinds of terrains with a firm grip for better balance. 
The base also absorbs the shock of each step and lessens the pressure on the hand and wrist. It promotes a comfortable and relaxing use even for long walks. 
These tips fit on all standard 3/4 crutches and canes. To install, insert and twist while pushing downward until installed. 
We present to you the KMINA Crutch/Cane tips. Made of 100% natural rubber with a wide shape for better resistance on the sand. Capable of delivering satisfying results on all types of terrains. 
Features a 3.15″ diameter base to grant a firm grip while walking. It grants better mobility and balance. Each tip ensures the greatest stability and traction for you to stay secure and safe.
The base adapts to various surfaces and offers great traction for no slipping risks. These tips are designed for active people to assist on different terrains, with no fear of tripping.
Standard crutch/cane tips might not be as reliable on the soft sand or the rough terrains. In order to maintain a safe well-balanced motion, you need specially made tips.
Cut out any risk of falling, sinking in the soft sand, or struggling on rough ground. Upgrade your crutch/cane tips now and enjoy your travels wherever the tides might lead.
You might be interested to our Beach guide when your leg injured.