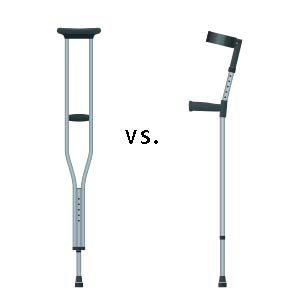 Forearm Crutches Vs. Underarm Crutches
Having so many options to choose from, this becomes a challenge when deciding on which one to pick. It is even more challenging when the product is essential, and you cannot do without it. 
There are two main types of crutches in the market today. People get confused about which one to go for between the two.
You should know the distinction between the two types and analyze which is better for you.
Below are the two types:
Underarm/axillary crutches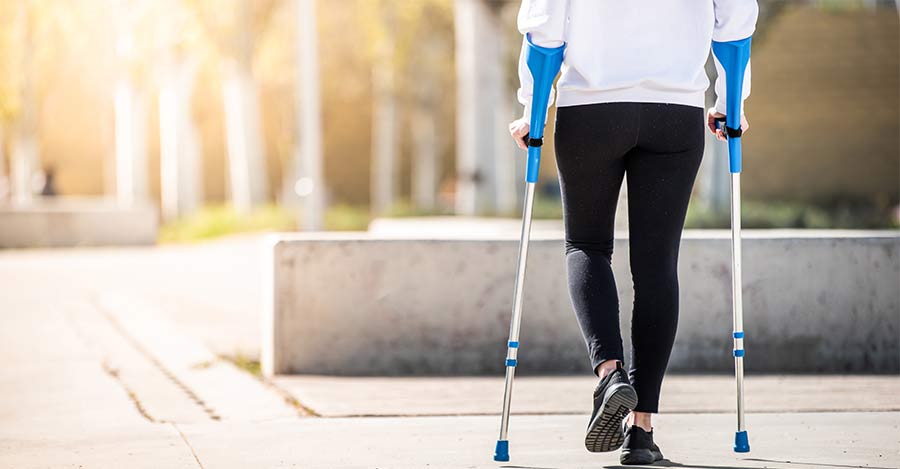 This type of crutch is also known as elbow crutch or Canadian crutch. It has a cuff fixed at the top part of the crutch that moves around the forearm. It also has a hinged plastic or metallic cuff that is half or full circle.
The cuff has an opening in the front part that allows the forearm to slide out in case you collapse.
Can you use forearm crutches for non-weight bearing?
The answer is no.
Though forearm crutches are better than other crutches, they cannot support a lot of weight. Whenever you use them, make sure you don't subject them to heavyweight than the recommended one. 
How much do forearm crutches cost?
The pair of forearm crutches is not much expensive. Their price range is $40-$180. This price varies depending on the quality of material used, its design, and style.
Most importantly, never ignore the doctor's advice.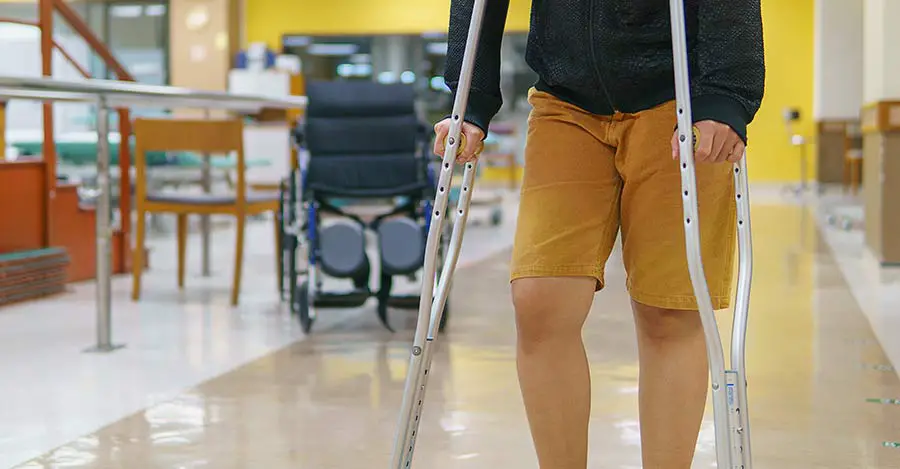 These are crutches used by patients who have restrictions due to surgical removal of part of a limb.
The patient places the pad on the ribcage under the armpit and holds the grip. Sometimes a soft material like a towel is required to reduce injuries on the armpit.
They also have a spring at the bottom that allows you to push further. It makes it easy to move faster from one area to another.
What's the difference between forearm crutches and underarm crutches ?
Many people think that they can use any crutches as the selection is just a straightforward process. In such a situation, one may not know which one is the best between the two.
Understanding their properties can help you choose the one that is suitable for you.
In this article, we have provided the differences between the two crutches.
Make your considerations from all aspects before making the final decision.
| | Passing the Stairs | Balance​ | Keeping Upper Body Part Strong​ | Keep Posture In The Correct Position​ | Flexible | Fewer Side Effects |
| --- | --- | --- | --- | --- | --- | --- |
| Forearm Crutches | | | | | | |
| Underarm Crutches | | | | | | |
Underarm crutches have a pivot point that is higher 60% than the one on a forearm crutch. Underarm crutches require much energy as you walk and make it difficult to walk on stairs. They are more burdensome than forearm crutches.
The most important factor to consider about when choosing a crutch is balance. For you to stand you need a good balance. If you don't have proper balance, underarm crutches will work best for you.
It requires a lot of practice to learn how to balance on forearm crutches.
Nevertheless, underarm crutches may restrict you as you move but if you are able to balance with forearm crutches, then you can walk freely without any problem.
Most people live in an allusion that you only need to have strong arms to walk comfortably with crutches. It is wrong as crutches take away your body weight from your legs to dispense it to the whole upper part of your body. Forearm crutches dispense weight more than their counterparts.
Keeping my upper body part strong
These two types of crutches require enough strength on the upper-body. But, comparing the two, forearm crutches need more.
With the underarm crutches, you can walk even when your upper body power is a bit low.
Forearm crutches require strong muscles in your pelvic and abdominal region and your arms. You should try strength training to add enough strength to your body.
keep my posture in the correct position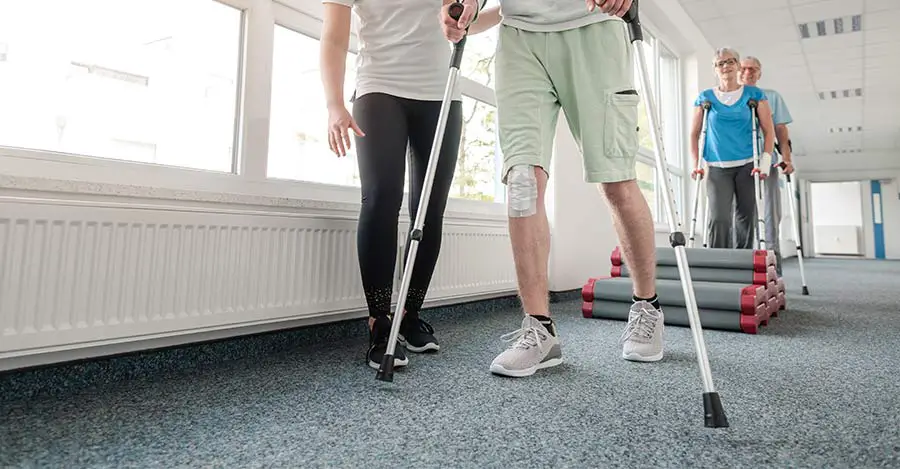 Forearm crutches are best when in terms of posture than underarm crutches. Forearm crutches enable you to stand straight and make it easy to walk with if you have a good posture. So to some extent, it works in enhancing your posture.
In terms of posture, forearm crutches are the best because they enable the user to stand upright. If you have a proper posture, walking with forearm crutches becomes easy. It works well in improving your posture.
In comparison, most of the people who use underarm crutches tend to slouch over them.
If you use underarm crutches for the long term, it takes a toll on your posture.
People using underarm crutches sometimes with or without their knowledge may put all their weight on crutches and shoulders when tired. Because of this, one starts dragging him/herself rather than walking. This is not the case in forearm crutches.
On the other hand, underarm crutches insert pressure on the body sides. Whether they have additional soft cushion or any design, they will still affect your body severely after using them for long periods.
Walking with underarm crutches for long may cause soreness or burns on your armpits.
If used for long hours, they can cause total damage to the nerves or cause crutch palsy.
Though both underarm and forearm crutches require to fit well to the user, underarm crutches need it more.
Ironically, underarm crutches are taken as universal. If they are not well designed, underarm crutches will badly cause muscle pain and may damage the nerves.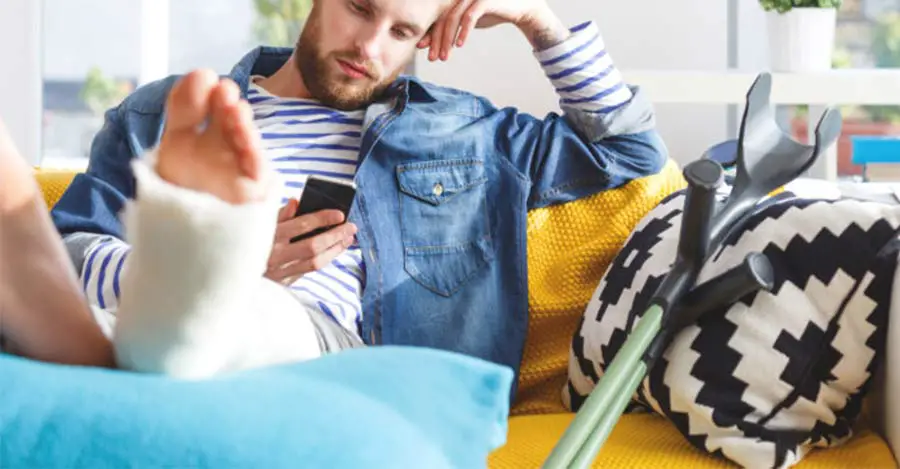 Forearm crutches are made such that you may find it a challenge to balance yourself if it is not well fitted.
For underarm crutches, you can walk without realizing that the crutches are not of the right size and are causing an effect on your body.
As we started earlier, forearm crutches are the best in dispensing weight uniformly to the upper body.
Because of this, they are the best in terms of providing comfortable movement.
Forearm crutches do not cause any side-effect on your body even after using them endlessly for long hours.
Choosing the correct type of crutches is an important decision because it will contribute to your day to day life.
Before making any choice, it is wise to share it with your physiotherapist for advice.
You should be aware of their advantages and disadvantages before acquiring them. I hope this article will  offer you full information on the two types of crutches.