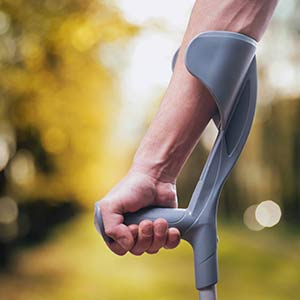 5 Best Crutches for Fibromyalgia
If you're suffering from the medical disorder fibromyalgia, you likely need crutches. I have found that crutches are among the least expensive treatment options available that help me manage the pain I suffer daily. I have had this hard to manage disorder for many years and had struggled to find a solution to my constant mobility issues.  
When I came across utilizing crutches, it was definitely a light at the end of the tunnel moment. After a few years of using a few different brands, I will present you with a few of the best crutches for fibromyalgia that you can find. 
Hugo Mobility crutches. If you have fibromyalgia, you are likely to realize that your pain and tolerance will evolve, your treatment needs will also change. The Hugo Mobility crutches I have found to be the best for alleviating my mobility issues. 
These crutches are lightweight and adjustable. This makes them especially ideal for a wide range of people. The Hugo Mobility crutches are lightweight due to their construction utilizing anodized aluminum. They can only support up to 300 pounds. You can adjust the overall length of the crutches from 5ft 2′ up to 5 foot 10′. To do this, you need to just push against the push button on the sides.
The tips of these crutches are contoured and feature a curved stair deflector. This provides users with impressive traction. The traction ensures you won't slip and fall while climbing up stairs. Additionally, when you're in pain, you want to be comfortable, and using crutches can hurt. Luckily the Hugo Mobility crutches feature comfortable handgrips and padded underarm guards.
If you're utilizing other treatment options, you likely don't have a large budget to buy crutches. After evaluating a few of the cheaper alternatives available, I came across the PCP push-button crutches. These crutches are definitely amongst the most affordable you can buy. Additionally, they have a range of features that make them attractive. 
If you don't have time or struggle to put together many components due to your pain levels fluctuating, you should consider these cruthes. They come wholly pre-assembled. You don't have to struggle with putting together the handgrips, tips, or underarm pads as it will be done for you. 
Additionally, these crutches can cater to those who are taller. You can easily adjust the crutch height from 5 foot 10 inches through to 6 foot 6 inches. If you have hurt yourself due to your disorder, these affordable crutches could be the best fit for you. They are specifically made to represent a medical crutch. They will aid you in your recovery if you have hurt your knee, ankle, foot, or leg. Moreover, they are also excellent if you face mobility issues daily. 
At one stage, I was overweight, which negatively affected my condition. Those who are heavier tend to face greater mobility issues and can feel more pain from daily tasks. It can be hard to find a set of crutches that will handle heavier weights. It's also harder to find crutches that provide the support that ease fibromyalgia symptoms. 
Fortunately, I came across the In-Motion Pro Crutches. These crutches are perfect for heavier users. They have a weight limit of 500 pounds higher than comparable models. The In Motion pro crutches are durably constructed. This ensures they can handle the weight. They are also foldable, allowing you to easily car them around when on the move. 
Additionally, these crutches have a unique folding feature. The feature allows users to circulate their crutches without changing any height adjustments. Additionally, they also have spring-assisted technology. This technology absorbs the impact that affects users when they walk. It also makes the crutches quieter than other shock-absorbent ones.
Are you someone who enjoys utilizing ergonomic crutches to manage your condition? If so, you might want to take a much closer look at the Mobilegs Ultra crutches. These crutches are one of the most ergonomic designs I have encountered. Ergonomics plays an essential role in your comfort, and these crutches are definitely comfortable for users. 
The Mobilegs Ultra crutches feature ergonomic handgrips that contour entirely to your hands. This allows you to maintain a natural wrist movement action when walking. These handgrips also work to distribute your weight evenly. This alleviates pain and improves mobility. You will likely enjoy the articulated saddle design. This design ensures you can pivot and maneuver without hurting yourself.
The legs of the crutches are off-set, which limits your chances of tripping. They also ensure adequate hip clearance. Additionally, it's important to have adjustable height settings. These crutches let you adjust your arm length, and they can accommodate weights up to 300 pounds.
Do you want an underarm crutch that will support you and provide pain relief for your disorder? If you do, you may want to consider the Carex folding underarm crutches. These crutches are great for many people, but the weight limit is low at 250 pounds. Although the weight limit is low, they can accommodate 4ft 11 inches through to those who are 6ft 4 inches.
The Carex crutches are easy to fold and store, and they have excellent padding in sporty colors. If you need to travel while using them, you will like to learn that they can easily be stowed. You can place them in overhead luggage compartments and other travel storage areas. 
Additionally, these Carex underarm crutches are lightweight. They primarily consist of rubber and aluminum and these materials contribute to the durability of the product.
 The Carex crutches are ideal for those who don't want to use crutches that are heavy and cumbersome. 
Well, there you have it. These are my top five crutch recommendations for those who have fibromyalgia. I like all the options I have written in this article, but my clear winner is the Hugo Mobility crutches. These crutches beat out the competition because they are an excellent all-rounder. 
They have ergonomic handles, are lightweight, and provide relief for those in pain. Unlike other models on this list, they have shock-absorbent arm guards. They also have a metal ring device that prevents premature wear and tear. 
The Hugo Mobility crutches are perfect for everyday use. This is because they feature washable arm guards. Hopefully,  reviewing this article will help you make an educated decision. At least one of these crutches will help you with managing your condition.