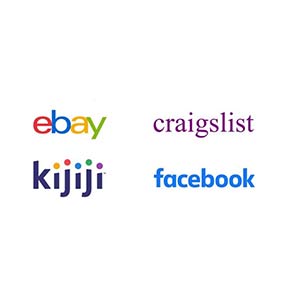 How Do I Sell A Nice Used Pair Of Crutches?
In this crutches selling guide, we will take you through the process of how to sell your crutches. We will also tell you where you should sell them and how much you should sell them for amongst other related information.
If you're looking to sell your crutches and they are in good condition, consider selling them online. Yet, you need to remember that there are a few things you need to do with your crutches before you are ready to list them. We will talk about this in more detail soon.
What You Should Do Before Selling Your Crutches Online
Are you wondering what you need to do before listing your gently used crutches for sale online? If so, you should have a look at the tips we have provided below. If you remember to follow these tips before listing your crutches, you are more likely to secure a favorable sale.
This first tip goes almost without saying. You will need to make sure your crutches are clean. If your crutches are clean, you will be more likely to attract buyers. If people see that your crutches are clean, they will believe they are in good condition.
When cleaning your crutches, remember to use chemicals that are not harsh or toxic. By doing this, you will prevent damage. Additionally, you need to use a microfiber cloth or similar that won't scratch your crutches.
When you are cleaning your crutches, you should check for breakages and damage. You don't want to post that you have crutches for sale and that they are in good condition only to discover that they are broken.
To check for breakages, start by examining the handles and the cushioning. Then have a look at the legs and the grip. Additionally, remember to adjust your crutches' height to make sure they work.
After you have looked for breakages, you will know if there is anything wrong that you can state in your listing. Stating what is wrong will prevent you from wasting time.
Ensure You No Longer Need Them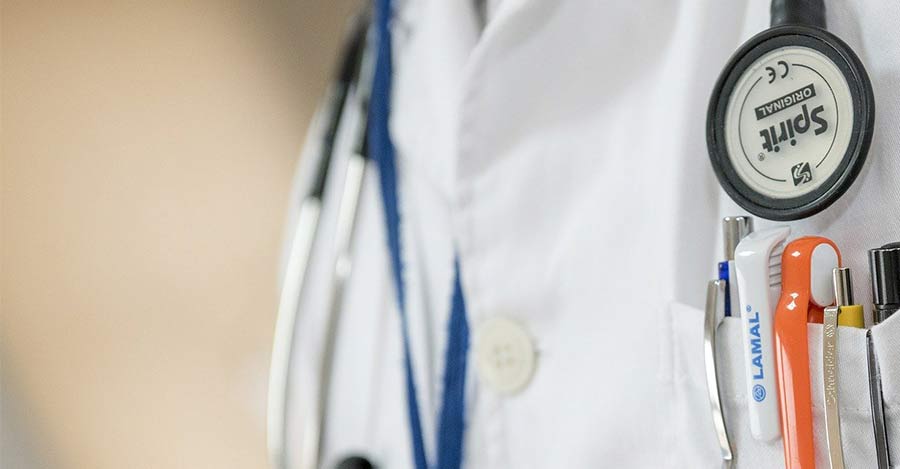 It might seem fairly obvious, but you need to make sure you no longer need your crutches. This type of mobility aid can be an expensive asset. You don't want to sell your crutches only to realize you will need to replace them shortly afterward.
If your doctor advised you to use crutches, speak with them before selling them online. This will doubly ensure you no longer need them. Otherwise, if you bought the crutches on your own, examine your injury or illness and determine if you still need them.
How To Set The Price For Your Crutches
Once you are sure you want to sell your crutches, you will need to determine how much you want to sell them for. This can be difficult to establish, but we can impart a few handy crutches selling tips.
Find Out The Current Market Price For A New Pair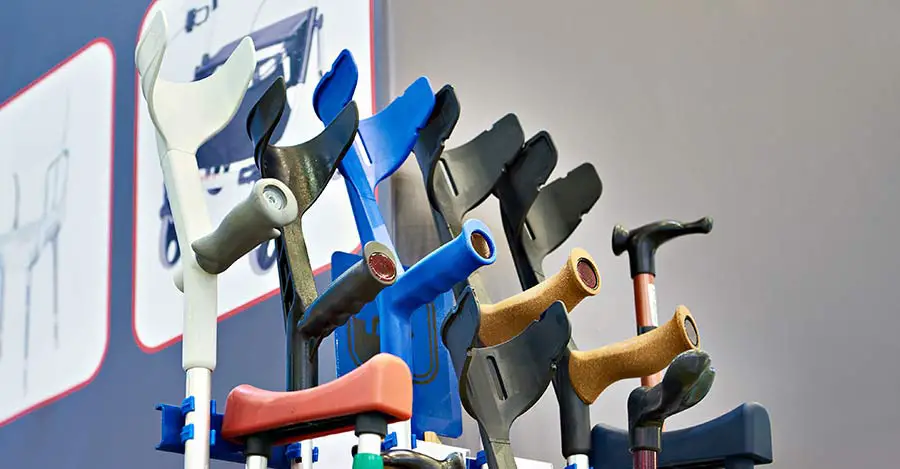 After you have gone through cleaning your crutches, checking them for breakages, and ensuring you no longer need them, you need to research market prices. As with most medical mobility equipment, there are continuous advancements in technology. This means that there is likely a new and better version of the crutches you are trying to sell.
Essentially, you need to have a look at the average pricing of crutches on the internet. Yet be sure that the ones you are looking at are like the pair you are trying to sell. This will give you a decent idea of how much you need to price your crutches.
Most people will compare the prices of your used crutches to the current market prices. So you must consider this when setting your pricing. If you price the crutches much higher than what can be bought brand new or only slightly lower, you could risk not selling your crutches.
Note: If you want to sell your crutches quickly, you can set the price lower.
Determine The Residual Life
Another aspect to consider when listing your crutches for sale online is their residual life. Generally, the actual residual life of medical equipment will vary. It will vary according to the manufacturer, the make, the model, and the materials. Some crutches are sturdier than others, while others are prone to breaking easily. Usually, a pair of crutches will last a few years before breaking.
When determining the residual life of your crutches, figure out the average amount of time they should last. Then take off 10 percent of life usability from when you bought them. This will allow you to determine how much they have depreciated and how much longer they are likely to last.
Determine If There Is A Warranty
Did you buy your crutches brand new from a reputable place? If so, you were likely given a one-year or longer warranty. If one year has not passed and you are selling them, they may still be under warranty. This means you can sell them for a higher price than if you didn't have a warranty. Remember to state this fact and provide proof when listing your crutches. This will likely make a quicker sale. 
Where Can You Sell Used Crutches?
Are you ready to sell your nice used pair of crutches online, but you don't know where you can? Don't worry; we have you covered. Below we have listed a few ways you can sell your crutches online and the places that will allow you to do so.
Often the best place to sell a nice pair of used crutches is on an online website. There are many to choose from, yet some are far more reliable and reputable than others. Additionally, it might come as a surprise, but a few online websites cater to those selling used crutches. If you're interested in uncovering the best online websites to sell your crutches, have a look below.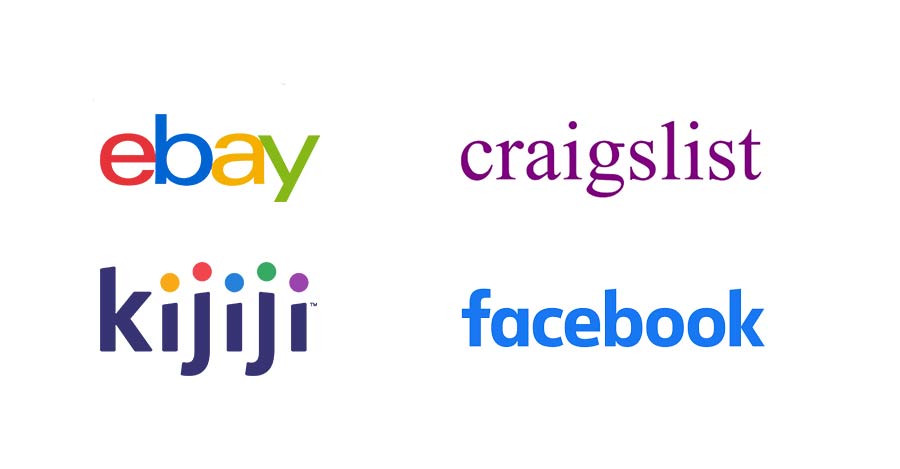 eBay is the world's online marketplace.
Craigslist is an American classified advertisements website that can be for sale, items wanted.
Kijiji is a Canadian online classified advertising website and part of eBay Classifieds Group.
Facebook Group or Facebook Marketplace
At Local Medical Facilities
This article is about selling your crutches online, but you do have another option. Should you do a simple Google search, you will find local medical facilities near you. Some facilities will buy your used crutches if they are in excellent condition.
At these medical facilities, you might even get more money than if you sold them online. This is because they know the true worth of your crutches and can offer you a fair price.
Apps
In the modern world, everyone uses a mobile device that is loaded with many online shopping applications. If you have in your possession a cell phone, you can download an application to sell your gently used crutches online. Below we listed two of the best apps for selling items that will let you list your used crutches.
OfferUp is an online mobile-first C2C marketplace with an emphasis on in-person transactions.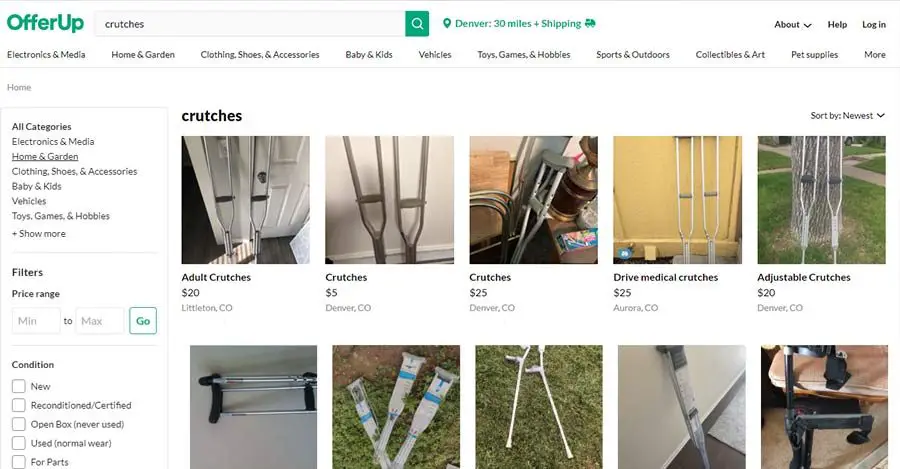 Letgo is a mobile classifieds application that allows users to buy from and sell to others locally.
Crutches Forums
Many people don't realize that they can sell their used crutches at online community forums. Surprisingly, many online forums have people looking to buy used medical equipment like crutches and other mobility aids.
However, not every forum will prove fruitful as not all of them are reliable or reputable. That's why you should look and see which medical community forums have active members and if they have a decent online presence and reputation.
One of the best forums where you can sell your crutches if they are in good condition is on the CareCure Community forum.
How To Sell Your Crutches: The General Information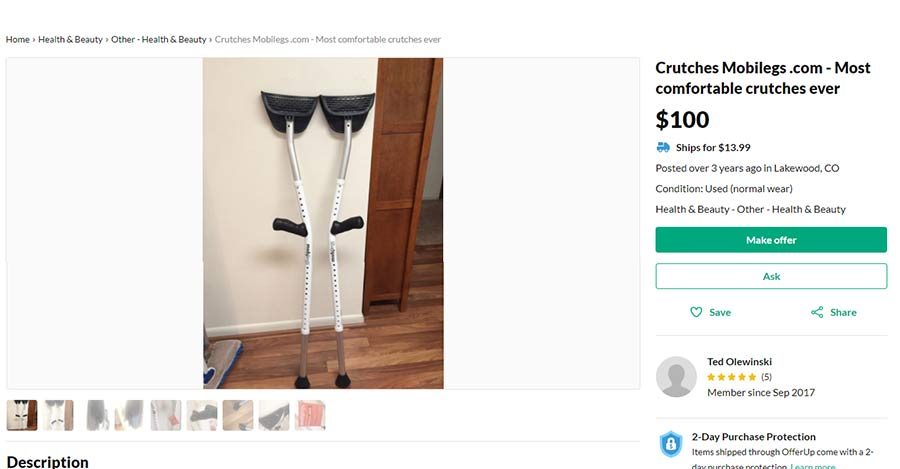 Once you have found out where you plan to list your used crutches for sale, you need to determine how to create your listing. Below is some of the crucial general information you need to ensure is visible on your seller's ad. Without this information, you will struggle to secure a sale.
Photos of the equipment: Try and take clear pictures of your crutches from multiple angles. For example, make sure you take pictures of the handles and feet and close-ups of what they look like so any flaws or lack of flaws are apparent.
Brand or manufacturer name: When describing your used crutches, be sure to include the brand name or manufacturer name as this might sway some people towards buying yours over someone else.
Model or serial number: Be sure to list the model or the serial number of your used crutches so that if people want to, they can research the crutches to see if they will be a good fit. This will also allow people to see that you are asking a reasonable price for them. They can compare your pricing to market prices of the same or similar model.
A reasonable price: Set a realistic price. This will be easy to do after you have had a look at the tips we spoke of earlier.
Other important information about the equipment: When writing your listing description, mention any other relevant information about the crutches. For example, if they are still under warranty, how old they are, where they were bought, and if there are any flaws.
Contact information: Perhaps the most important information not to forget, including is your contact details. Make sure you list a few ways people can contact you, such as a telephone number, email address, or website.
Selling your gently used crutches is not as hard as it first appears, as you now know. As long as you remember that you need to clean, check for breakages and make sure you no longer need them first, you will be ready to begin the process of selling them.
Yet, remember that you need to set a reasonable price according to the tips we spoke of. You will also need to find the best place to sell them online that suits your preferences. Once you have done this, all that's left is to create a listing that includes all the general information about your gently used crutches. It's really as simple as that to sell them online!